American Heart Association
North Carolina
A relentless force for longer, healthier lives in North Carolina.
North Carolina Medicaid expansion bill signed into law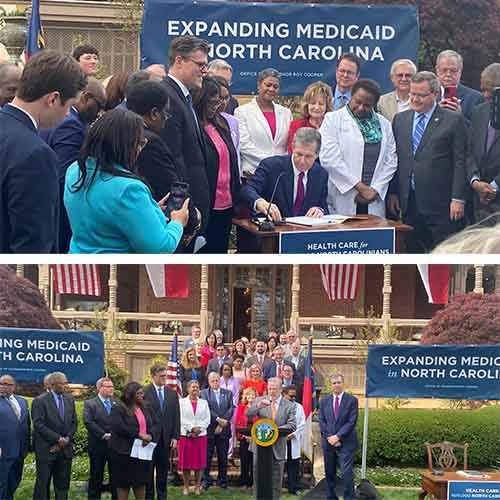 March 27, 2023, marked an historic day for North Carolina as the Legislature ended a nearly decade-long push for Medicaid expansion. It is also an example of a remarkable bipartisan effort in the Tar Heel state that will ensure hundreds of thousands of residents will now be able to have affordable and adequate healthcare.
As Governor Cooper signed the legislation, organizations across the state celebrated this monumental policy as a game-changer for the health of North Carolinians. The American Heart Association, a global force for healthier lives for all, is committed to ensuring health care is adequate, accessible, and affordable for everyone living in the United States.
"North Carolina has made the historic decision to expand Medicaid coverage and ensure more families impacted by heart disease, stroke and other serious health conditions have access to health care," said Nancy Brown, chief executive of the American Heart Association. "Forty states and the District of Columbia have now prioritized the health of their residents by expanding Medicaid, and we continue to urge the remaining states to follow suit so more people can access needed care to prevent and treat cardiovascular disease."
Virtual Conversation on Youth Vaping Epidemic
American Heart Association hosted hundreds to hear from featured panelists from across the country on April 27, for a virtual discussion about the youth vaping epidemic. Medical professionals, representatives from Parents Against Vaping & E-cigarettes (PAVE), and school system leaders discussed environmental and other health factors influencing this public health crisis.
Recreation Center in High Point Gets Cooking with Heart
Participants from the Ahoy Walking group at Morehead Recreation Center in High Point are wrapping up their six-week healthy cooking curriculum with the American Heart Association's Simple Cooking with Heart program. Made possible by The Earl and Kathryn Congdon Family Foundation, these free classes taking place throughout High Point are teaching families how to cook and eat healthier, while also providing free meals for four after each class.
Urban Ministries of Wake County promotes health and wellness
Nearly 50% of American adults have high blood pressure, and many don't even know they have it. To lower hypertension rates among individuals in their community, Urban Ministries of Wake County utilized support from the American Heart Association of the Triangle to purchase 100 blood pressure devices and educate patients on how to monitor blood pressure at home.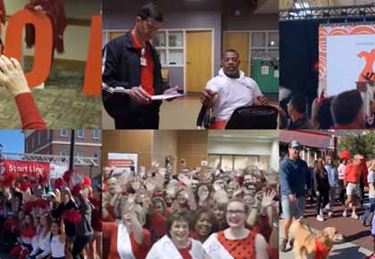 Statewide health initiative set to improve chronic disease risk factors
The American Heart Association and Novant Health announce a three-year health equity initiative to reduce heart disease and stroke risk factors by improving blood pressure and nutrition security in communities spanning the Charlotte, Piedmont, Triad and Cape Fear regions.
Get the facts on high blood pressure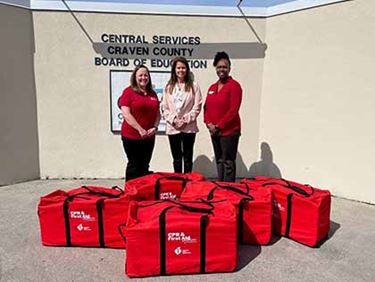 Learning How to Save a Life in Eastern NC
The American Heart Association in Eastern NC worked with International Paper to provide Craven County schools with 5 CPR Anytime and First Aid Training Kits. These five kits have the potential to train up to 6,000 students in the life-saving skill of Hands-Only CPR.
Watch this short video to learn how to save a life today
Featured recipe: Sweet Potato Nachos
Who's ready for Game Day! This American Heart Association's Simple Cooking with Heart recipe has seasoned sweet potatoes with a mellow cheese that create a wonderful combination for a snack or healthier game-day appetizer.
Get your healthier nachos ready for the coin toss!
Help save lives!
You can help fight heart disease by making a gift to help improve patient outcomes, fund breakthrough research, prevention, and more.
The American Heart Association is committed to driving equitable health impact in North Carolina through five key priority areas: women, readiness, tobacco and vaping, patients, and healthy living. Equity is always at the center of our work, and it will continue to guide all that we do.
Through our focus on these key impact areas, and with collaboration among local organizations, sponsors, businesses, and others that serve the community, we are working to improve the health and well-being of North Carolina citizens while saving and improving countless lives.
Throughout the state of North Carolina, we've seen our community impact work grow, including efforts around creating avenues for greater access to care, expanding healthy food access and education, building a network of first responders through CPR kits in schools, supporting blood pressure screenings and education, and educating on the dangers of tobacco and vaping.
People are counting on us as never before. We at the American Heart Association, along with our supporters, will drive change, and we will be relentless.
Advocacy has had a mission-critical role in the Association's work for more than 40 years. Our legislative and regulatory priorities help to mitigate risk factors and protect survivors in communities across the country. We support the enactment of evidence-based public policies that lead to longer, healthier lives.
Public policy advocacy is an essential strategy used by the American Heart Association and American Stroke Association to affect necessary and sustainable policy, system and environmental changes that help Americans build healthier lives free of cardiovascular disease and stroke.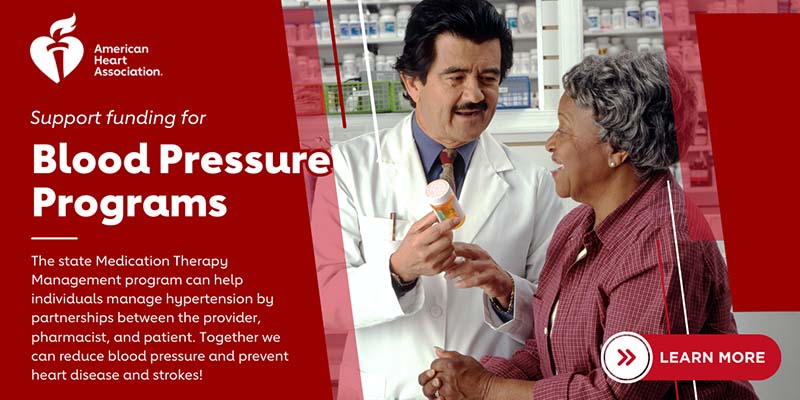 Classes in the Triad
The American Heart Association is focusing on nutrition security and nutrition education throughout the Triad. Thanks to Healthy Blue, the Simple Cooking with Heart curriculum is teaching families in our community how to cook and eat healthy on a shoestring budget. Courtesy of The Earl & Kathryn Congdon Family Foundation, the American Heart Association's Simple Cooking with Heart program is working with community-based programs in High Point to provide healthy cooking classes and connect families with food and cooking supplies. Triad community-based programs may request to host a Simple Cooking with Heart series of healthy cooking classes. To learn how you can cook healthy for your family, register to attend a series of free healthy cooking classes.
Please complete this interest form to register for a complimentary Simple Cooking with Heart series of classes or to request to host a series of healthy cooking classes.
For more ideas for healthy recipes you can try at home, visit www.heart.org/recipes.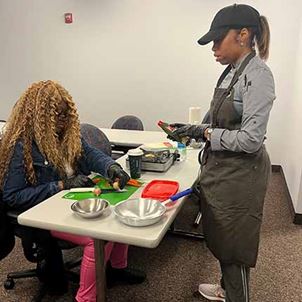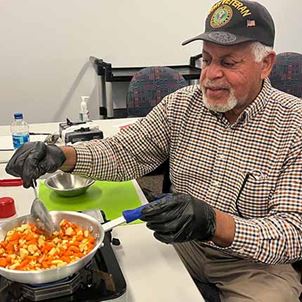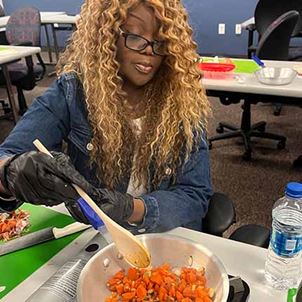 Are you doing your part to keep the Queen City healthy? Healthy Charlotte, a popular coalition of leaders and organizations dedicated to the health and wellbeing of our city, is back in action and we need your help! Learn about the "refresh" of this important initiative and how you can get involved in improving your health and the health of your friends, family and workforce.
Chair
Neal Blinde
Capital One
President
Sidney Fletcher, M.D.
Novant Health
Leadership Development Chair
Nancy Mcnelis
Summit Leadership Partners
Chairman-Elect
Gary Michel
Community Volunteer
President–Elect
Sherry Saxonhouse, M.D.
Sanger Heart & Vascular Institute,
Atrium Health
Board Members
Le Roy Davis

Mike Desmond
Grant Thornton
Jamie Ergle
Cushman & Wakefield
Stacy Gray
CTE
Sanjeev Gulati, M.D.
Sanger Heart & Vascular Institute,
Atrium Health
Shaina Hall
Belk
Karla Jones, M.A., Ed.D.
Queens University of Charlotte
Chuck Munn
Harris Teeter
Jerry A. Saunders, M.D., Ph.D
Amity Medical Group
Niki Curci Scott
Community Volunteer
Raynard Washington, Ph.D.
Mecklenburg County
2022 – 2023 Campaign Chairs
Greater Charlotte Heart Challenge
Dan Soto
Ally Financial
Brian Weisker
Natural Gas Business Unit Duke Energy
Heart Of Charlotte / Heart Ball
Kim & Leon Topalian
Nucor
Greater Charlotte Go Red For Women
Sheila Jordan
Honeywell
Janice Dupre
Lowe's Corporation, Inc.
Chairman
Vern Hawkins
Syngenta North America Crop Protection
President
Cynthia Williams Brown, Ph.D.
Winston-Salem State University
Leadership Development Chair
David Daggett
Daggett Shuler, Attorneys at Law
Board Members
Suzie Burrow
Allegacy Federal Credit Union
Alison Ashe-Card
Duke University School of Law
Mariane Carna
Novant Health
Debra Diz, Ph.D.
Atrium Health Wake Forest Baptist,
Hypertension & Vascular Research
Ruth Fisher
Cone Health System
Valerie Grimm
CVS Health
Sandy & Lafayette Jones
SMSi Urban Call Marketing,
SMSi Healthy Living Solutions, Inc.
Brad Roehrenbeck
MedCost
Sherita Eastmon Sutton, MPH, MSW, CHESM.D., MPH
Forsyth County Department of Public Health
Iulia Vann, M.D., MPH
Guilford County
P. Kevin Williamson
The University of North Carolina at Greensboro
Linda Wilson, Ph.D.
Guilford County School District
2023 – 2024 Campaign Chairs
Heart of the Triad / Triad Heart Ball:
Dr. James Hoekstra
Atrium Health Wake Forest Baptist
High Point Medical Center
Triad Go Red For Women Co-Chair
Mousumi M. Andersen, M.D
Novant Health
Triad Go Red For Women Co-Chair
Ashley M. Perrott, M.D.
Novant Health
Triad Heart Walk Co-Chair
Rob Braiman
Cogent Analytics

Triad Heart Walk Co-Chair
Dr. Goldie Byrd, Ph.D.
Maya Angelou Center for Health Equity
Wake Forest University School of Medicine
Chairperson
Tiffany Gholston
Gholston Consulting Group LLC
Immediate Past Chairperson
Terri L. Phillips, M.D.
Merz Aesthetics
President
Christopher Kelly, M.D, MS, FACC.
North Carolina Heart & Vascular
Leadership Development Chairperson
Kristen Soler
Advance Auto Parts
Board Members
Peter Benton
Worldwide Clinical Trials
Jason Christie
Triangle Business Journal
Buzz Crosby
Martin Marietta
Wayne Feng, M.D., FAHA
Duke Health
Corrine Greco
Community Volunteer
Deana Labriola
Fox Rothschild, LLP
Bob Myer
SKANSKA USA Building
Neha Pagidipati, M.D., MPH
Duke Heart/Duke Clinical Research Institute
Jeff Pfeifer
LexisNexis
Anuradha Rao-Patel, M.D.
Blue Cross Blue Shield of North Carolina
Trevor Upham, M.D.
WakeMed Heart & Vascular
2023-2024 Campaign Chairpersons
2024 Triangle Go Red for Women Chairperson
Joy Clark​
Worldwide Clinical Trials​
2024 Triangle Heart Challenge Chairperson
Mark Morelli ​
Vontier​
2023 Triangle Heart Walk Chairperson
Christine Vannais​
FUJIFILM Diosynth Biotechnologies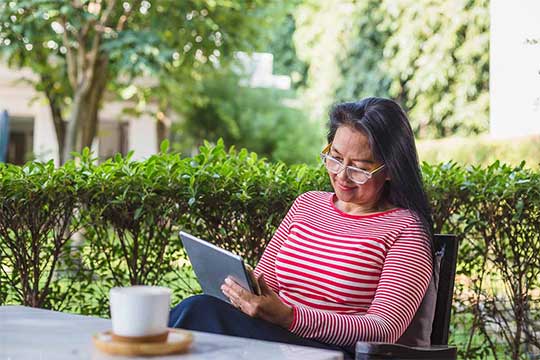 Heart and Stroke News
Find science-based stories about heart and brain health and inspiring survivor profiles from American Heart Association News.