American Heart Association
Northern Nevada
A relentless force for a world of longer, healthier lives.

A Culture of Health
Imagine a Northern Nevada where healthy choices are equitable and accessible. Where the healthy choice is the easy choice. We are fighting heart diseases and stroke, the No. 1 and No. 5 killers of all Americans, by making the places we live, learn, work, play, pray and heal healthier.

Show You Have Nevada at Heart
Your voice matters! As a Nevadan, you can make a difference by lending your support to help improve the long-term health of our city.
Knowing Your Family History Can Save Your Life
When Dane Hillyard was 23 his father died in his arms of a heart attack when he was only 56 years old. Because of this, Dane always worked out regularly and ate a healthy diet, however when he was 40 years old, he started having high blood pressure and began seeing a cardiologist.
When Dane was 59 years old, life changed drastically. His doctor instructed him to get to the hospital immediately.
Northern Nevada's Fearless
Women of Go Red
Maddie Hodge's Story

The day his daughter Maddie was born was supposed to be the happiest day of J.W. Hodge and his former wife Kim's lives, but their joy quickly turned to fear when they noticed the concerned looks on their physician's face.
Read Maddie's Story
Promoting Native American health in northern Nevada
In northern Nevada's Native American community, where hypertension and diabetes rates are disproportionately high, our Check.Change.Control. initiative has emerged as a lifeline. The evidence-based hypertension management program enables participants to take ownership of their cardiovascular health through blood pressure self-monitoring. Over the past year, our team has worked with health care leader Renown to scale the program and raise awareness about hypertension risk factors, prevention and management.
CPR Trainings
Emergencies leave us feeling helpless, but they don't have to. Take two minutes to learn Hands-Only CPR™(link opens in new window)(link opens in new window) now. 70 percent of out-of-hospital cardiac arrests happen in homes. When a person has a cardiac arrest, immediate CPR can double or triple their chance of survival. Prepare to save a life, find a CPR course near you today.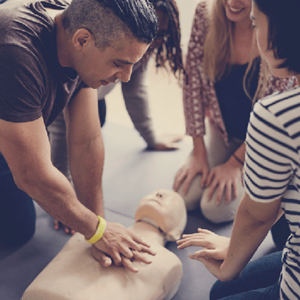 Healthy For Good
You don't need a guilt trip. We know you know. You want to be healthy... for good. And we're here to help inspire you to create lasting change in your health and your life, one small step at a time. The approach is simple: Eat smart. Add color. Move more. Be well. Get Healthy For Good.
Take Control of Your Health
Because being healthy and thinking you're healthy aren't the same.
Your Voice Matters
We will only beat heart disease and stroke if we work together. We advocate for policies that prevent cardiovascular diseases, improve the quality of and access to care, increase research funding and expand rehabilitation services.