American Heart Association
Massachusetts
Help us ensure everyone in Massachusetts has the opportunity to live longer, healthier lives.
Massachusetts Blog
Our blog is the hub for the American Heart Association in your community. Whether you're seeking the latest local news, survivor stories or information about impactful events, we have you covered.
Boston Impact Report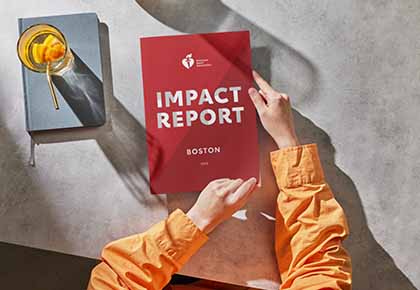 Learn about the strides made by the American Heart Association in Greater Boston in our 2023 Impact Report. We highlight local research, education initiatives and public policy efforts, all of which play a pivotal role in saving lives.
Support Network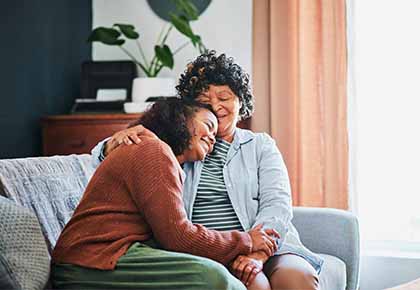 You are not alone. Coping with a heart or stroke condition can be complex, but your experience can be more manageable when you have the right kind of support, encouragement, guidance and information.
Give and GET MATCHED during the Fall Supporter Drive
Your lifesaving gift against heart disease DOUBLES — but only until October 10. Help protect the hearts you love from America's No. 1 killer with a gift today.
The American Heart Association stands with our communities by advocating for laws and policies that help people access care, avoid tobacco and eat healthier.
The moving force behind these efforts are our You're the Cure advocates. These are Americans from all walks of life who advocate for legislative and regulatory policies in Massachusetts and across the country.
You can make a difference by lending your voice to this cause. Join the You're the Cure network today by visiting yourethecure.org/join.
To learn more about our advocacy work, contact Allyson Perron, our senior state government relations lead, at [email protected].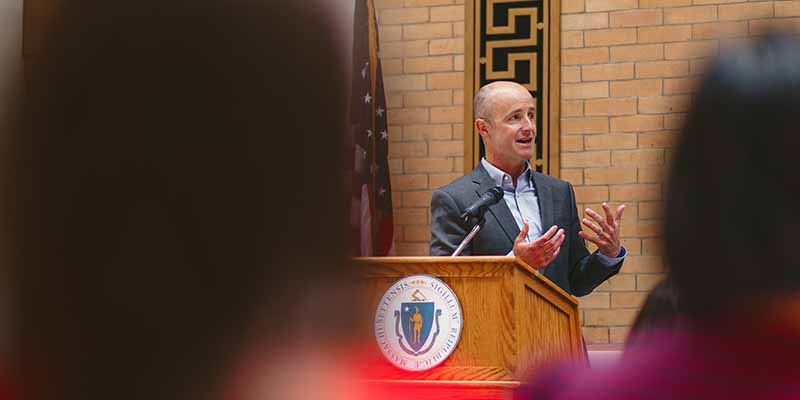 The American Heart Association is honored to be working with some of the most passionate companies in Massachusetts. These supporters are vital to helping us achieve our mission.
To get your company involved in Greater Boston, contact Jessica Berretta, our vice president of development, at [email protected].
To get involved in Central Massachusetts, contact Sabrina Webb, our development director in that region, at [email protected].
The American Heart Association is committed to creating more equitable health outcomes in Massachusetts through five key priority areas: women, tobacco and vaping, patients, addressing community need and healthy living. Equity is always at the center of our work, and it will continue to guide all that we do.
Through our focus on these impact areas, and in collaboration with local organizations, sponsors, businesses, and others that serve the community, we are removing barriers to health care access and quality so everyone can enjoy a full, healthy life.
To learn more about this work, contact Lawrence Vinson, our vice president of community impact, at [email protected].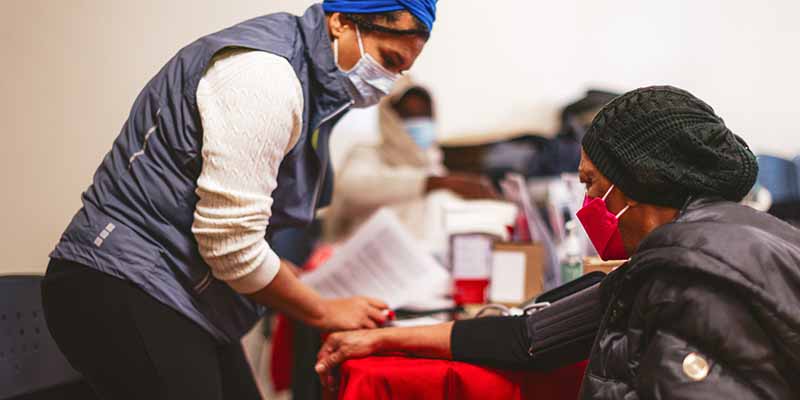 Have you or someone you care about suffered from heart disease or stroke? Give hope to others by sharing your story.
At the American Heart Association, we often receive requests from the media, companies, schools and other organizations for individuals to share their stories. These stories help us spread awareness and provide hope.
To share your story, contact Chris Camire, our marketing and communications director, at [email protected].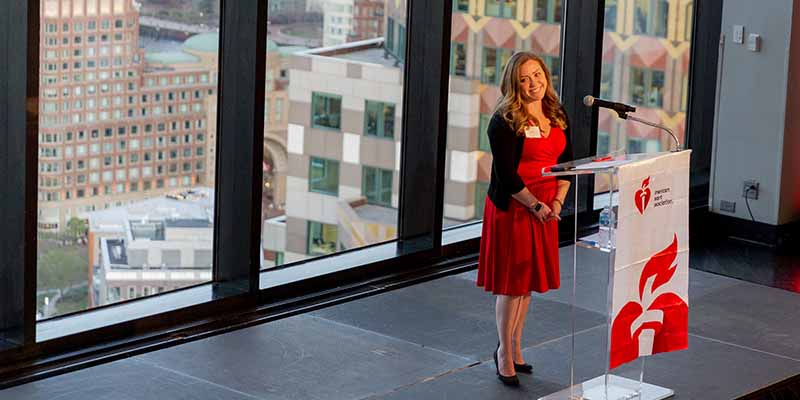 Chairperson
Thomas Lee
Senior Partner
Zozimus
President
Dr. Ami Bhatt
Chief Innovation Officer
American College of Cardiology
Leadership Development Chair
Kerri Cullity
Partner
IBM Consulting
Immediate Past Chairperson
Mark Kane
Senior Vice President
CIBC
Immediate Past President
Dr. Emelia Benjamin
Associate Provost for Faculty Development
Boston University School of Medicine
President-elect
Dr. Jennifer Cluett
Clinical Specialist in Hypertension
Beth Israel Deaconess Medical Center
Laura Angelini
Partner
Hinckley Allen
Jaime Butler
Founder and CEO
Brand 21
Barry Greene
CEO
Sage Therapeutics
Laura Hamilton
Executive Vice President, Business Development and Industry Relations
HealthBeacon
Traci Hong
Associate Professor
Boston University
Michael Jorgensen
Managing Director
Omni Boston Hotel at the Seaport
Allison McClain Joyce
Chief Communications Officer
Nixon Peabody LLP
Linda S. Lennox
Vice President, Corporate Communications and Chief of Staff
Lantheus
Olivia Lew
Chief Operating Officer
Casana
Erin Nelson
Cardiometabolic Care Specialist
Novo Nordisk
Dr. Chloe Zera
Director, Obstetrics Population Health
Beth Israel Deaconess Medical Center
Chairperson
Elizabeth L.B. Greene
Partner
Mirick O'Connell
President
Dr. David McManus
Professor and Chair of Medicine
UMass Chan Medical School
Chairperson-elect
Christopher Kostiw
Senior Vice President-Team Leader, Commercial Lending
President-elect
Dr. Daniel Carlucci
Chair, Medical Specialties
Reliant Medical Group
Meg Coffin
CEO
Center for Living & Working, Inc
Dr. Michelle Hadley
Co-chair, Women's Health & Lifestyle Center
Saint Vincent Hospital
Dr. Brian Silver
Endowed Chair in Neuroscience Research and Professor of Neurology
UMass Chan Medical School
Aditi Subramaniam
Healthcare Business Unit Manager
FLEXcon
Contact Us
American Heart Association
93 Worcester St.
Wellesley, MA 02481
Phone: (781) 373-4500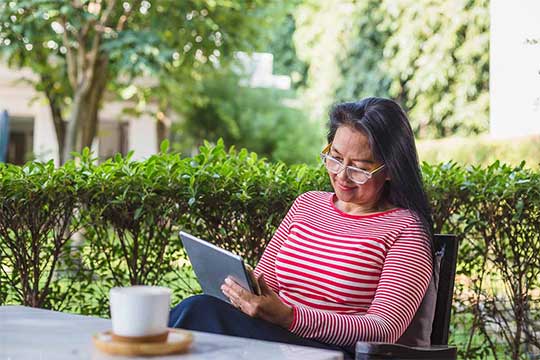 Heart and Stroke News
Find science-based stories about heart and brain health and inspiring survivor profiles from American Heart Association News.