Building Active Communities
In Los Angeles, we are working to address social and environmental barriers to safe walking and biking to promote healthy, active living.
Inglewood Active Communities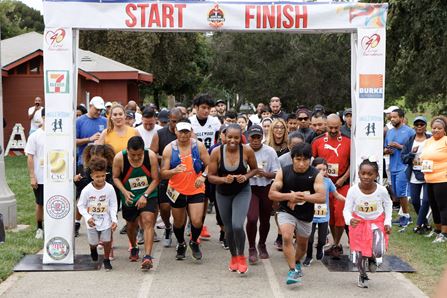 A group of more than 20 local organizations, led by the American Heart Association, have joined hands to help improve youth physical activity in the city of Inglewood.
The Inglewood Active Communities(link opens in new window) (IAC) coalition has set a goal to increase opportunities for youth physical activity by 21 percent by the year 2021 by helping address the barriers that keep Inglewood kids and their families from being active.
Over the next few years, the coalition will implement a multi-pronged approach to address these issues.
In the fall of 2019, the group launched its school pilot program aimed at filling the gaps in equipment and resource needs for FitnessGram preparation and achieving a minimum of 60 minutes of physical activity per day.
IAC is working with four Inglewood schools, providing volunteer trainers who lead 60 minutes of physical activity and Fitnessgram training on campus once a week.
Additionally, the coalition has provided mini-grants of $5,000-$10,000 to local nonprofits that focus on increasing community physical activity. The grant recipients included the STEP Foundation, Southern California Youth Ultimate, Peter Brown Junior Tennis Program, Whole Caregivers and A World Fit for Kids.
Programs to boost physical activity in the community, faith-based and housing settings will roll out in the coming months. The school efforts also include wellness programs for teachers.
County statistics show that more than a quarter – or 26.8 percent – of the children in Inglewood are obese. Physical activity is one of the most important things a person can do to help prevent obesity and lower their risk for cardiovascular diseases and other chronic conditions.
In a poll of 302 Inglewood residents commissioned by the American Heart Association, over half of the participants (55 percent) felt there were not enough opportunities for young people to be physically active, citing safety concerns and poor maintenance of sidewalks and public facilities as major obstacles to exercising or taking active modes of transportation, such as walking and bicycling.
In the same poll, 91 percent of the respondents said they would be interested in using public spaces for physical activity if they were safer, properly maintained and accessible.
"Unfortunately, many people in our community live in environments that do not support active lifestyles. Inglewood has under an acre of recreation space per 1,000 people, compared to eight acres in LA County and 53 acres in the best-performing city," says Bryce Fluellen, Community Impact Director. "If we alleviate some of the socioeconomic and environmental barriers and increase access to safe places to play, we can give kids in Inglewood a fighting chance to live healthier lives as adults."
"Having done this work in Inglewood for the past 10 years with community members, the Social Justice Learning Institute believes that access to healthy food, healthcare, living in a clean environment and of course easy access to physical activity should be a right for all people. We're committed to working with community partners to make that happen," said Derek Steele, Health Equity Programs Director, Social Justice Learning Institute.
"Strengthening The Empowerment Process (STEP) Foundation was designed to provide community youth with opportunities that they may not otherwise receive. Developing healthy lifestyles is essential in empowering kids. Body image, self-confidence, and emotional health are directly impacted by physical activity. As we work to develop scholarly community leaders, fitness will remain an essential part," said Travis Fenderson, co-founder, STEP Foundation.
The IAC will continue to review the poll results and environmental assessment which will formulate priorities and recommended actions. The coalition strives towards the goal of improving youth physical activity in the city and transforming Inglewood into a community where everyone has the opportunity live well and healthy.
Members of the Inglewood Active Communities Coalition include: American Heart Association Los Angeles Division, Los Angeles Rams, Los Angeles Chargers, Social Justice Learning Institute, Limitless Initiative, LA County Department of Health, Conscious Capital Investments, STEP Foundation, Inglewood Unified School District, Malin Properties, Fresh Food Alchemy, Southern California Youth Ultimate, A World Fit for Kids, Anthem Inc., Peter Brown Jr Tennis Program, NFL alum and Inglewood born and raised Lawrence Jackson, and Common Threads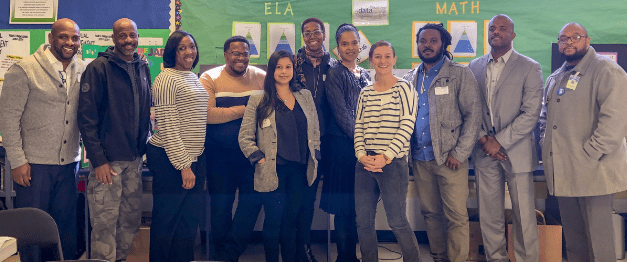 Community STEPS
A collaboration between the American Heart Association, the 77th Division of the Los Angeles Police Department, the Los Angeles Department of Recreation and Parks and The District Music Group, Community STEPS creates a safe space for dialogue and physical activity between community members and law enforcement.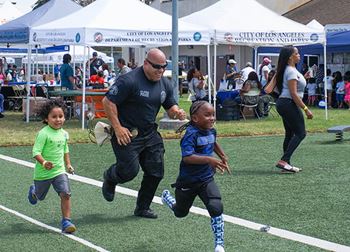 The program creates bi-monthly opportunities for community members to join police officers on walks in the park and around the neighborhood and in other physical activities, giving them the chance to get active together, discuss issues that affect their community, and work toward solutions.
The program not only promotes cardiovascular health, but also addresses a shared value in the importance of equal opportunity for health by helping to create safer environments for residents to be outside and active.
In addition to tools to help the community stay active, the program offers resources on healthy eating and provide free health services like blood pressure, BMI and cholesterol screenings.
Additional program collaborators include Councilmember Marqueece Harris-Dawson, the Gang Reduction & Youth Development, Environmental Congress Central Area and Tommy the Clown.
Safe Routes
We advocate for improving streets, metro access, outdoor usable space and biking routes to create environments that support an active lifestyle.
Return to the Los Angeles Division page to find out more about the work we're doing and how you can get involved.
---