American Heart Association
Kansas
Help us ensure everyone in Kansas has the opportunity to live longer, healthier lives.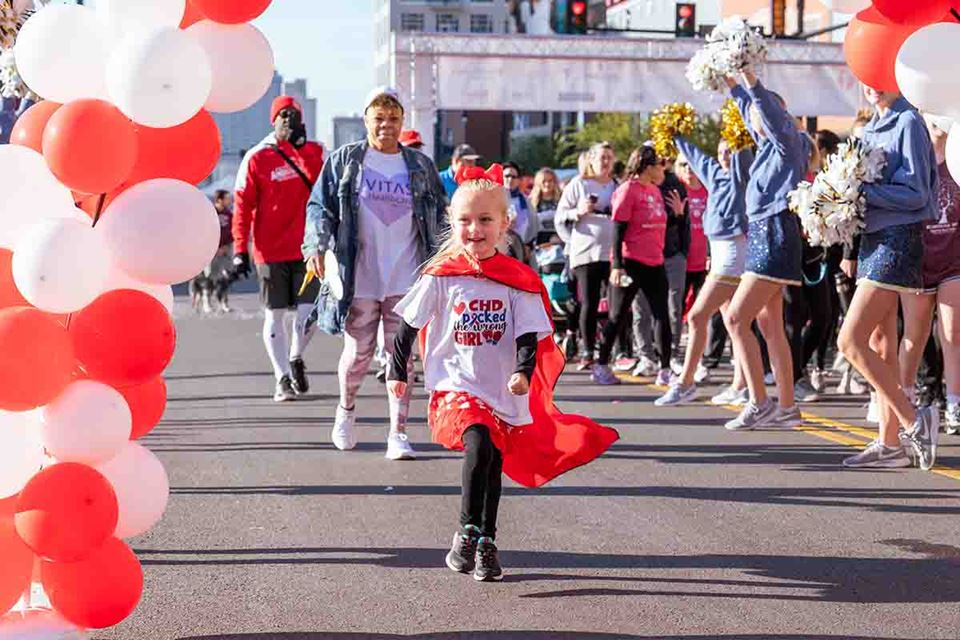 Kansas City Libraries with Heart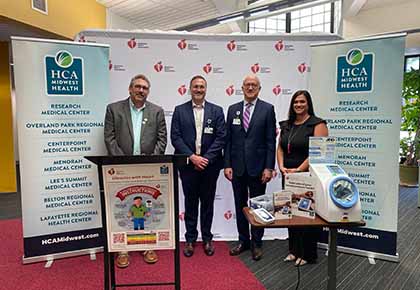 The American Heart Association, along with HCA Midwest Health and the Kansas City Public Library, has made blood pressure kiosks and checkout blood pressure kits available to all Kansas City Public Library branches.
Interest in CPR Soars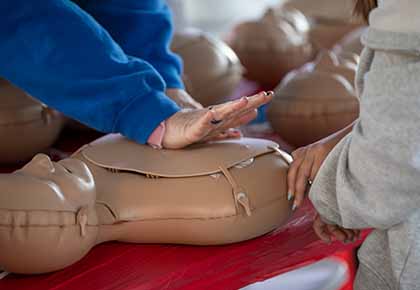 After Buffalo Bills player Damar Hamlin received life-saving CPR on the football field, many have pledged to learn CPR.
Seared Beef Sirloin and Grilled Peaches
Grilling brings out the natural sweetness of the fruit, a perfect complement to bitter greens like arugula and the savory flavor of the steak.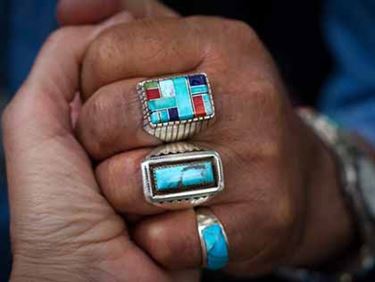 Kansas Tribal Impact
The American Heart Association is focusing efforts on growing the relationship with the four land tribes in Kansas to create a sustainable infrastructure to address structural health inequities. Those tribes include the Fox Nation of Missouri in Kansas and Nebraska, Iowa Tribe of Kansas and Nebraska, Kickapoo Tribe in Kansas, and the Prairie Band Potawatomi Nation.
We aim to deepen and improve their tribal member's health and well-being while empowering local capacity and community change grounded in culture and community values.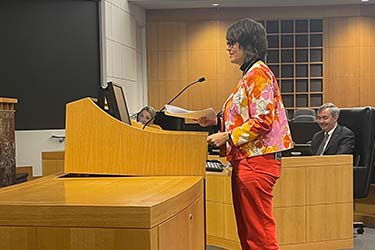 City of Wichita approves new tobacco ordinance
The Wichita City Council approved changes to its tobacco ordinance, shifting the penalty from underage youth tobacco license holders.
Read more about the new tobacco ordinance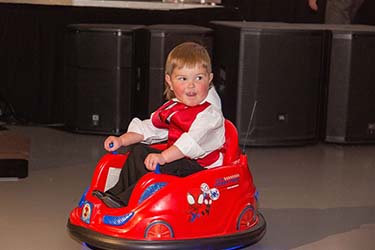 Hudson's Story
Wichita family makes it a priority to participate in Heart Walk every year after their son, Hudson was born with hypoplastic left heart syndrome.
Read more about Hudson's story
Give and GET MATCHED during the Fall Supporter Drive
Your lifesaving gift against heart disease DOUBLES — but only until October 10. Help protect the hearts you love from America's No. 1 killer with a gift today.
The American Heart Association is committed to driving equitable health impact in Kansas through five key priority areas: women, COVID-19, tobacco and vaping, patients and healthy living. Equity is at the center of our work and it will continue to guide all that we do.
Through our focus on these key impact areas, and with collaboration among local organizations, sponsors, businesses and others that serve the community we are working to improve the health and well-being of all Kansans while saving and improving lives.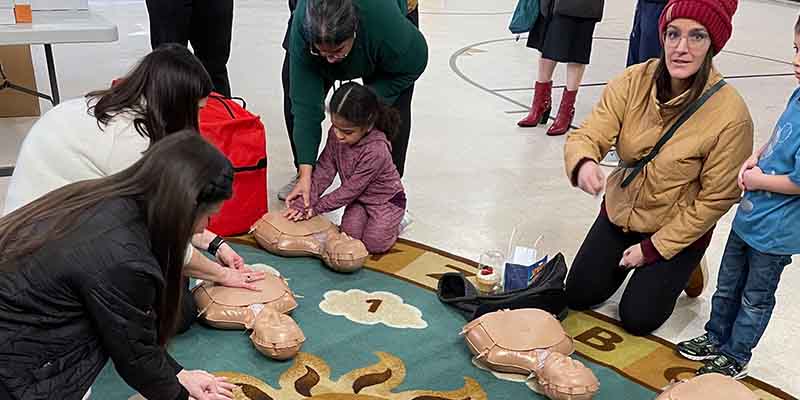 Our legislative and regulatory priorities help to mitigate risk factors and protect survivors in communities across the country. We support the enactment of evidence-based public policies that lead to longer, healthier lives.
Public policy advocacy is an essential strategy used by the Association to affect necessary and sustainable policy, system and environmental changes that help Kansans build healthier lives free of cardiovascular disease and stroke.
Our efforts in Kansas communities are focused on ensuring access to health care coverage through Medicaid Expansion, protecting comprehensive insurance and equitable enforcement of tobacco retail licensure.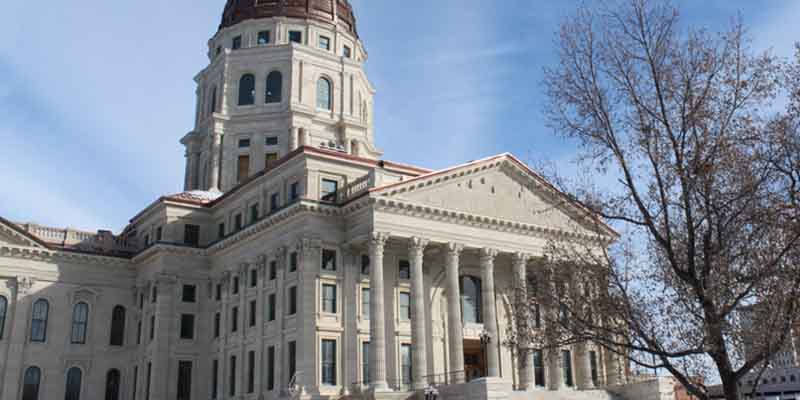 Board Chair
Shawn Jiwanlal
Simmons Bank
Board President
Vallerie Gleason, MBA, RN
Newton Medical Center
Leadership Development Chair
Alex Melugin, MBA
Phoenix Home Care & Hospice
Midwest Regional Board Chair
Pat Gearhart
Simmons Bank
Members
Laura Barnes
FORVIS
Nicole Castleberry
Wesley Health Care
Don D. Gribble
Hite, Fanning & Honeyman L.L.P.
Clayton Kaiser
Foulston Siefkin L.L.P.
Brian Pate, MD
KU School of Medicine- Wichita
Christopher Rea
Foundation Properties
Debbie Reilly, BSN, RN
Kansas Heart Hospital
Board Chair
Tom O'Grady
HNTB
Board President
Heath Wilt, MD
AdventHealth
Members
Dave Barber
JE Dunn Construction
Scott Hall
Greater Kansas City Chamber of Commerce
Steven Kaster, MD
Chen Med
Keri Mathew
Central Bank of the Midwest
Rhea Pimentel, MD
University of Kansas Health System
Marvin Szneler
community member
Mindy Brissey
MRB Strategies, LLC
Tim Castaneda
Amazon Web Services
Carla Duryee
C. Duryee Consulting
Dipika Aggarwal, MD
University of Kansas Medical Center
Anezi Uzendu, MD
Saint Luke's Health System, Mid-America Heart Institute
Matt Sogard
HCA Midwest Health - Overland Park Regional Medical Center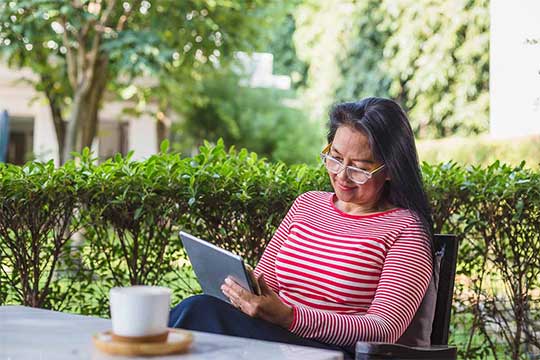 Heart and Stroke News
Find science-based stories about heart and brain health and inspiring survivor profiles from American Heart Association News.