Increasing Equitable Access to Nutritious Foods in the Puget Sound
What we eat and drink matters to our heart and brain health. Unfortunately, many households in the Puget Sound struggle to put food on the table, relying on food banks and meal programs. Many factors impact if an individual or family has nutritious foods available, accessible, affordable and can utilize healthy foods that promote well-being and prevent and treat disease. The American Heart Association is working to increase nutrition security to ensure that everyone in all communities can live as healthy as possible.
Did You Know?
27% of Washington households experience food insecurity. (WAFOOD Survey, July 2021)
Communities of color are disproportionately impacted by food insecurity due to compounding structural factors. In WA: 40% of Black households, 37% of Hispanic households compared to 25% of White households.
Close to one million people in Washington receive SNAP (food assistance). Nearly 2/3 of them are children, elderly, and people with disabilities.
249,356 kids in the Puget Sound are eligible for free or reduced-price lunch.
43% of Washington households said their diets worsened during the COVID-19 pandemic.
Making An Impact
The American Heart Association continues to champion health equity by addressing the intersecting drivers of health disparities, including access to healthy food that meets dietary and cultural needs. Our ongoing efforts include:
Stocking Healthy Pantries: Heart Healthy Food Drive Toolkit
Eating healthy meals is easier when families have nutritious foods to prepare. The American Heart Association encourages companies to host heart-healthy food drives and is sharing support materials to get started. Food access organizations want more healthy options, but donations are often low in nutritional value. Limited availability to nutritious foods makes it difficult for organizations to support a shopper's health needs and may perpetuate inequities that contribute to negative health outcomes. Our comprehensive toolkit helps companies build community partnerships with food access organizations, focusing on the health impacts of poor nutrition and the disparities in food insecurity in WA. The toolkit includes guidance for providing culturally relevant foods, a map of local food access organizations, talking points, materials to promote your food drive and more. Download a copy.
Watch the video to learn more about our ongoing nutrition security efforts in Washington State.
Increasing Access to Culturally Relevant Foods
The American Heart Association collaborated with local food access organizations APOYO, Rochester Organization of Families, North Helpline, Ballard Food Bank, West Seattle Food Bank, Lynnwood Food Bank, Bellevue College, Community Lunch on Capitol Hill, and FamilyWorks Seattle to develop nutrition policies to guide the procurement, donation preferences, and distribution of healthy, culturally inclusive food for over 40,000 community members each year. The implementation of these policies increases equitable access to options that enable positive health outcomes, promote mental well-being and help prevent and manage diet-related chronic diseases.
We also developed unified nutrition policies with Seattle Food Committee and Washington Food Coalition that encourage member agencies to adopt their own nutrition policies, improving nutrition access for nearly one million households that receive services through Seattle's emergency food system each year.
Our team is working with Asian Counseling & Referral Service, in collaboration with Northwest Harvest, on sustainable solutions to provide more produce and perishable cultural staples including a nutrition policy and commercial refrigerators, made possible by Puget Sound Energy Foundation. These efforts support the health of over 4,000 community members.
These projects complement our history of legislative advocacy for nutrition security, such as the Fruit and Vegetable Incentive Program and SNAP Market Match. We also successfully advocated for a $5 million health equity appropriation from the King County Council to increase the distribution of culturally relevant foods. Additionally, our team successfully advocated for the City of Seattle to fund a produce prescription initiative to support chronic disease management in American Indian and Alaska Native communities.
Improved Nutrition for LGBTQ+ People of Color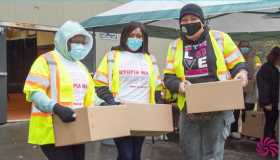 Queer, transgender and gender diverse (TGD) individuals of color are disproportionately impacted by food insecurity due to compounding structural factors, including systemic transphobic discrimination which exacerbates barriers to nutritious food. We collaborated with UTOPIA Washington, led by and supporting Queer and Trans-Pacific Islanders and other gender diverse individuals of color, to develop a nutrition policy that prioritizes health and mental well-being. The implementation of this policy supports the prevention and management of chronic disease for over 1,400 Kent residents. Additionally, our team supported the purchase of a new refrigerator, with funds from Puget Sound Energy Foundation, to increase the food pantry's capacity to store fresh fruits and vegetables. To provide sustainable sources of local produce, we facilitated a gleaning relationship between UTOPIA and Living Well Kent's local farms, led by immigrant and refugee people of color.
Three Meals A Day for Kids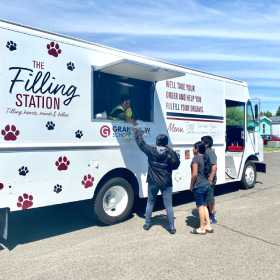 Good nutrition, especially in the early years, can have a powerful impact on positive health outcomes later in life. As such, a key focus of the American Heart Association is increasing youth access to three nutritious meals a day by providing capacity building opportunities for schools and other youth serving organizations. Our Three Meals a Day project is helping to bridge the hunger gap by working collaboratively with schools and community partners to expand food access by increasing adoption and effective implementation of At-Risk After School Meals programs
Some ways we are overcoming barriers to meals include:
Diving deeper with a subset of sites to provide technical assistance, catalyst funds and community resources to overcome barriers to serving meals to kids. For example, Grandview School District now offers dinner in their schools by using a "Food Truck" to deliver school meals, complete with nutrition education information on board.
Developing and sharing health curriculum to mitigate the lack of programming barrier for dinner programs.
Hosting family meal events that provide immediate food resources and education tools to underserved families. From February 2021-February 2022, we collaborated with local youth-serving organizations to host twelve family meal events, providing more than 1,200 nutritious to-go style meals as well as informational materials in English and Spanish.
Thank you to Safeway Albertsons Foundation for supporting our efforts to increase youth nutrition access in our community through the Nourishing Neighbors Federal Meals Grant.
Food Insecurity Screening and Referral
Improving nutrition security means connecting the dots among local community and clinical groups that provide services for under resourced, vulnerable populations. Our collaboration with community and housing organizations in the Puget Sound, including Community Life Foundation, Food Innovation Network, NewHolly and Community Roots Housing, is working to identify individuals facing food insecurity and providing connections to local food resources. By providing training on screening and referral protocols as well as SNAP and Market Match enrollment, these collaborations increase access to healthy foods with the potential to reach over 11,000 community members each year. Additionally, we provided Heart Bucks produce vouchers to shop for fresh fruits and vegetables.
Food Referral Sources: download or print in English, Korean, Russian, Somali, Spanish, Vietnamese, Cham, Chinese, Amharic, Khmer, Oromo, Thai, Tigrinya.
Food to Those Who Need It
We're working with clinics to support fruit and vegetable prescription programs and replicating the model in community settings. Through strong coalition partnerships, we mobilize to meet the needs of those that are most vulnerable. For example, during the height of the COVID-19 pandemic the American Heart Association worked with Food Innovation Network to provide hot meals to refugees and immigrants in South King County coupled with relevant health education.
Seattle Sugary Beverage Tax
Sugary drinks are the number one source of added sugars in the American diet. People who consume a greater percentage of their calories from added sugars are at a significantly higher risk of dying from heart disease. Sugary drinks taxes are proven to help reduce the consumption of sugary drinks, such as soda and sweetened iced teas. Now that the tax is in place, we're one of the community organizations making sure that revenue from the tax is funding food access programs in the city. In 2018, these programs served 45,000 children and adults. Here's how some of the tax revenue is being used:
Fresh Bucks Seattle expansion, helping more households on a tight budget afford fruits and vegetables
Community-based nutrition education and meal programs
Birth-to-3 childcare provider support
Home visiting that support child health and development.
Get Involved
Are you a local food access organization looking to increase shopper equity and develop health-centered spaces? Visit foodshopperequity.org for a user-friendly collection of lessons and tools. This resource was developed by Northwest Harvest in collaboration with American Heart Association and other health organizations.
We need advocates for this work as well as individuals and organizations that we can work alongside for a healthier food environment. If you'd like to join us to ensure three healthy meals a day for kids or to bring more fruits and vegetables to the tables of those who need it, contact us at [email protected] to discuss how we can collaborate.
---