American Heart Association
Georgia
A relentless force for longer, healthier lives in our community.
Monitoring Your Blood Pressure
The American Heart Association is encouraging Georgians to monitor their blood pressure regularly and know their numbers and what they mean.
Addressing Nutrition Security
Poor nutrition can lead to poor health. Nearly 1 in 8 Georgians, with more than 13% of those living in Metro Atlanta, are nutrition insecure.
Pumpkin Spice Smoothie
Autumn is here! Take a moment to savor the flavors of fall with this delightful, heart-healthy treat!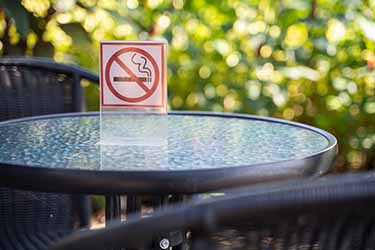 Smoke-free Georgia
Georgia residents have the right to breathe clean, healthy, smoke-free air at work and while visiting public places like restaurants and bars. When people live and work in spaces that are smoke-free, they can breathe easier knowing that they are not being exposed to the diseases and risks that come with secondhand smoke. Smoke-free laws are crucial to protect us all and reduce the risks of being exposed to secondhand smoke and to ensure a healthier community for all.
Join us and take action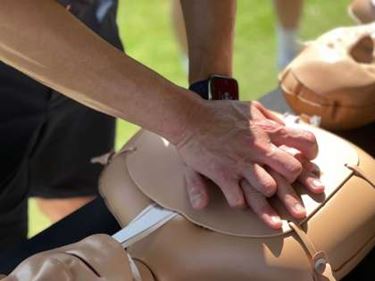 CPR Training Courses
Emergencies leave us feeling helpless, but they don't have to. Take two minutes to learn Hands-Only CPR™ now. 70% of out-of-hospital cardiac arrests happen in homes. When a person has a cardiac arrest, immediate CPR can double or triple their chance of survival. Prepare to save a life, find a CPR course near you today.
Find a CPR training class near you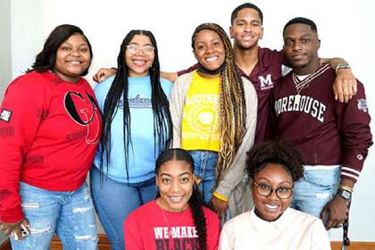 American Heart Association Scholars at HBCUs
Diversity matters. Especially when it comes to health. Are you a student at a local HBCU? Consider becoming a scholar and starting a career in science. There are six current scholars from Clark Atlanta University, Morehouse, and Spelman College. And we're also looking for pros in the industry who can help mentor these bright, young minds down the path of success. Learn more and join us as we aim for a more equitable future.
Learn about the HBCU Scholars Program
Learn about this year's HBCU Scholars from Atlanta
Give and GET MATCHED during the Fall Supporter Drive
Your lifesaving gift against heart disease DOUBLES — but only until October 10. Help protect the hearts you love from America's No. 1 killer with a gift today.
The American Heart Association is committed to driving equitable health impact in Georgia through five key priority areas: women, addressing community need, ending tobacco and vaping usage, patients, and healthy living. Equity is always at the center of our work, and it will continue to guide all that we do.
Through our focus on these key impact areas, and with collaboration among local organizations, sponsors, businesses, and others that serve the community, we are working to improve the health and well-being of Georgia citizens while saving and improving countless lives.
Throughout the state of Georgia, we've seen our community impact work grow, including efforts around creating avenues for greater access to care, expanding healthy food access and education, building a network of first responders through CPR kits in schools, supporting blood pressure screenings and education, and educating on the dangers of tobacco and vaping.
Georgians are counting on us as never before. The American Heart Association, along with our supporters, will drive change, and will be relentless. Thank you for your continued support.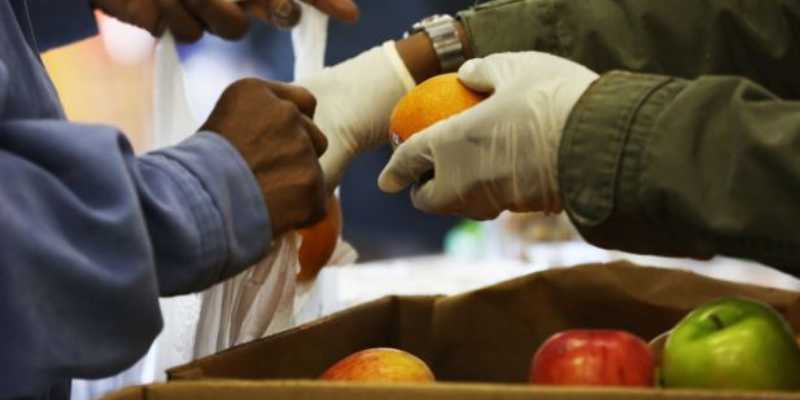 For over 40 years, Advocacy has had a mission-critical role in the American Heart Association's work. Our legislative and regulatory priorities help to mitigate risk factors and protect survivors in communities across the country. We support the enactment of evidence-based public policies that lead to longer, healthier lives.
Public policy advocacy is an essential strategy used by the Association to affect necessary and sustainable policy, system and environmental changes that help Georgia citizens build healthier lives free of cardiovascular disease and stroke.
Our efforts in Georgia and its communities are focused on six major policy areas which include: Tobacco Free, Access to Care, and Health Equity and CPR.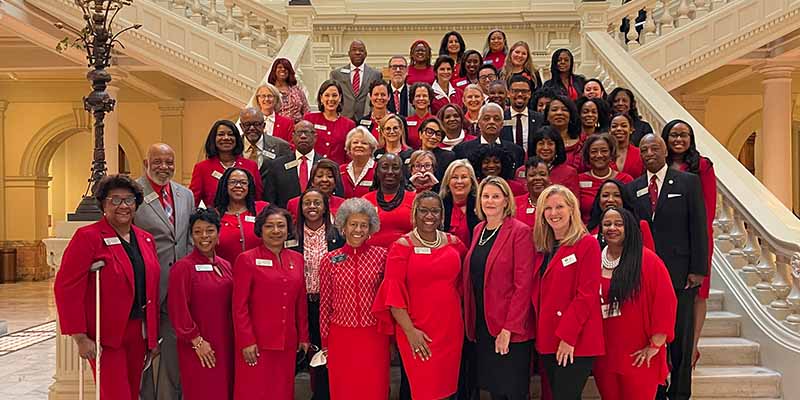 Board Chair
Phillip Coule, M.D.
Augusta University
Board President
Jose Cardenas, M.D.
Aiken Regional Medical Center
Leadership Development Chair
Jay Murray
Truist
Members
Vishal Arora, M.D.
Augusta University
Shankar Balan
Palmetto Industries International, Inc.
Brenda Brown
Patterson-Brown & Associates
Jim Clifford
North Augusta City Administration
Malinda Cobb
Richmond County School District
Yabin Dong, M.D.
Augusta University
Jennifer Hart
Aiken County Public School District
Penny Jackson
Columbia County School District
Debbie Layman
Layman Farms
Shauntia Lewis
City of Augusta
Stuart MacVean
Savannah River Nuclear Solutions
Donna Martin
Burke County Public School District
Pamela Moore
Retired
Matthew Merrifield
Aiken Regional Medical Center
Dean Seehusen, M.D.
Augusta University
Chairperson
Scott Webb
Hewlett Packard Enterprise
President
Marcus Brown, M.D.
Northside Heart
Members
Jeff Bearden
Forsyth County Schools
Karen Bennett
Cox Enterprises
Stephanie Blank
Georgia Early Education Alliance for Ready Students
Jeff Buzzelli
Comcast Business
Kathleen Eidbo
Genuine Parts Company
Divya Gupta
Emory Healthcare
Natalie Hernandez
Morehouse School of Medicin
Beth Reese
Southern Company
Veronica Maldonado-Torres'
Georgia Hispanic Chamber of Commerce
Rita Treadwell
Greenberg Traurig
2023 Event Chairpersons
Atlanta Heart Walk
Robert Bunch
Anthem Blue Cross and Blue Shield of Georgia
Atlanta Hard Hats with Heart
Justin Kanitz
Burns & McDonnell
Chairperson
Rita Treadwell
Greenberg Traurig, LLP
Members
Elaine Archie-Booker
Morehouse School of Medicine
Leslie Becker
32nd Street Media, LLC
Gregory Bolden
National African American Tobacco Prevention Network
Shanti Das
Silence the Shame, Inc.
Keith Dobbins
AA Male Wellness Agency
Angelica Geter, DrPH, MPH
Black Women's Health Imperative
Heather Mills
NCR Corporation
Cynthia Padilla Pearson
Community Foundation of Greater Atlanta
Will Sellers
Wholesome Wave Georgia
Shirley Anne Smith
Atlanta Fire Rescue Foundation
Korryn Williamson
Insight Global
The American Heart Association is committed to driving equitable health impact in Georgia through five key priority areas: women, COVID-19, tobacco and vaping, patients and healthy living. Equity is always at the center of our work, and it will continue to guide all that we do.
Through our focus on these key impact areas, we can improve the health and well-being of metro Atlanta, while saving and improving countless lives. Here is an overview of our impact for 2021-2022:
Be a Supporter with Heart
Join the American Heart Association as a volunteer! Our volunteers are our biggest advocates that educate our community, power our local events, and raise critical funds that save lives.
Whether you are looking to volunteer as an individual or as a company/organization, whatever your capabilities are, we can find a volunteer opportunity that's right for you.
Looking for ways to engage your employees in compelling and impactful volunteer experiences? Our corporate volunteer activities are designed to drive equitable health impact in our communities and support the mission and priorities of the American Heart Association to improve nutrition security, Hands-Only CPR usage, blood pressure awareness and mental well-being.
Thank you for your interest in volunteering and serving your community through the American Heart Association. Volunteers are our most valuable asset and are critical to our mission to save lives from heart disease and stroke.
Learn more about local volunteer opportunities by emailing [email protected].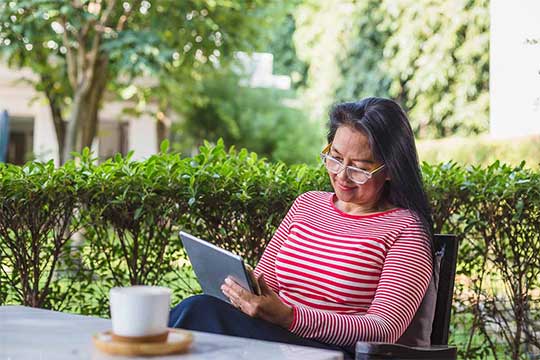 Heart and Stroke News
Find science-based stories about heart and brain health and inspiring survivor profiles from American Heart Association News.