American Heart Association
Southwest Florida
A relentless force for longer, healthier lives in our community.
Relentless is defined as being incessant, perfectly explaining our commitment to change the lives of everyone living in Southwest Florida. Across both Lee and Collier counties, we're fighting for longer lives with a quality of life that you can enjoy. We're working to make the places where we live, learn, work, play, pray, and heal to be equal and accessible.
With a special focus on improving blood pressure and healthy lifestyles through healthy eating in southwest Florida, our programs improve the health of this community. Our Board of Directors, local volunteers, and team are addressing the changes needed to reach our goals of ensuring longer, healthier lives with a relentless determination.
In Lee and Collier counties, 26.2% of adults are living with high blood pressure which can lead to a heart attack or stroke.
This "Silent Killer" must be stopped
Make a gift today to help protect yourself and the people you love from high blood pressure's deadly consequences.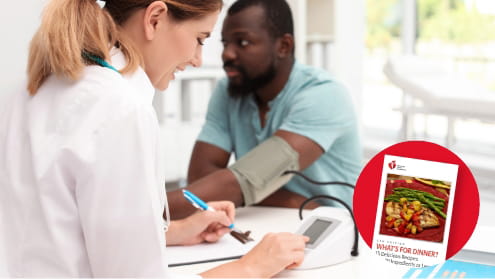 Local Events
Commit to a healthy future, and together let's build the health of Southwest Florida.
A Culture of Health & Wellness
Everyone deserves the best possible life, and it starts right here in our community.
"We've enjoyed participating in the Healthy for Good Program. It is gratifying to watch clients adopt healthy lifestyle measures which have been proven to prevent and reverse chronic disease. For so many people, education on simple changes can have a tremendous impact on their long-term health and longevity."

Dr. Brian Taschner, Vibrant Beat
Thirty days to a healthier you
Bad habits are easy to start and hard to break. We know that in SWFL nearly 25% of adults are obese and more than 30% of people report being overweight. 30 Days of Heart is a program locally sponsored by Physicians Regional that seeks to share support with tools necessary to begin a healthy lifestyle change. Download the booklet and begin your heart-healthy journey today!
Blood pressure monitoring during a pandemic
Do you know your numbers? More than 25% of our residents live with high blood pressure that requires regular checks. Take-home blood pressure cuffs make it possible to track the numbers without leaving the house. We've handed out a hundred blood pressure cuffs to people in our community since the pandemic began. And we'll keep handing out more. Let's manage the pressure together, SWFL!
Network with other parents of kids with CHD
Want to connect with other parents of kids born with congenital heart defects? Join our new Facebook Group support network and know you're not alone. Recently, medical experts from Lee Health shared their time and knowledge to the group's members in a virtual community conversation about the impact of coronavirus on children with CHD.