American Heart Association
First Coast
A relentless force for a world of longer, healthier lives.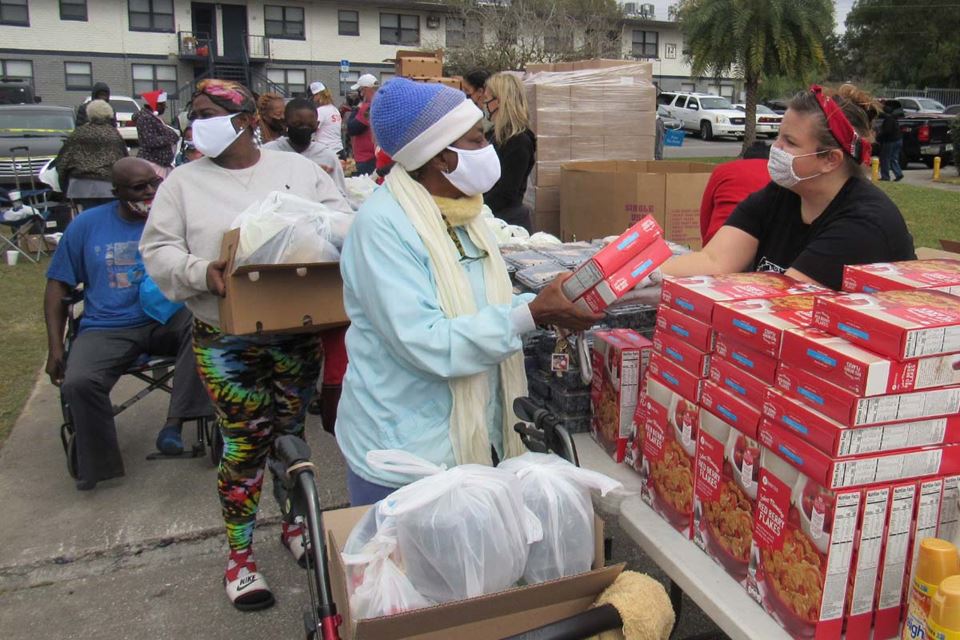 Imagine a community where healthy choices are equitable and accessible, where your zip code does not determine your health. Across the First Coast, we are fighting for longer lives by making the places where we live, learn, work, play, pray and heal as healthy as they can be.
Nutrition security, healthy food access and access to safe places to be physically active are our greatest needs here on the First Coast. Our Board of Directors and Health Equity Committee are addressing social determinants of health to improve lives in our community.
The number of food insecure residents along the First Coast increased by more than 40% in 2020.
Give with TWICE the heart
This holiday season, your gift will be MATCHED dollar-for-dollar, up to $200,000 to help save lives from heart disease and stroke.
"The American Heart Association is doing many different initiatives here on the First Coast. Alongside our community partners, we are making sure the health needs of our community are being addressed. Collectively, we need to become more educated, and that is what the American Heart Association is doing: increasing the dialogue with educational awareness programs in all communities."

Dr. Carol Jenkins-Neil, Health Equity Committee member at the First Coast American Heart Association
Local Events
Commit to a healthy future, and together let's build the health of the First Coast.
2022 First Coast Heart Ball
Location: Sawgrass Marriott Resort and Spa
Date: Saturday, April 2, 2022 - 06:00 PM
Register
Go Red for Women Health Summit
Location: Florida Blue/GuideWellConference Center
Date: Friday, May 13, 2022 - 10:30 AM
Register
2022 First Coast Heart Walk
Location: Jacksonville Fairgrounds
Date: Saturday, September 10, 2022 - 08:00 AM
Register
A Culture of Health & Wellness
Everyone deserves the best possible life, and it starts right here in our community.
Can eating chili peppers help you live longer?
Spicing up your diet in 2021 might add more than just extra flavor to your life. A new study found that eating chili peppers was associated with a 25% reduction in death from any cause! Pick up some fresh peppers today at your local farmer's market or supermarket. And send us a photo of your homemade concoction!
Work out with your favorite team!
Looking for a fun way to help your kids stay active? The NFL's brand-new PLAY 60 digital library features exercises led by mascots, players and cheerleaders that anyone can do from home! The best part is, they are free for everyone. We are grateful to have the Jaguars and the NFL supporting our community through this program. Have you gotten your 60 minutes of fun today?
Supporting healthy food access for all
Are you lucky enough to live close to a grocery store? Several in our community are not. We're giving away free push carts to those who need help transporting heart-healthy groceries home. We're also delivering thousands of pounds of nutritious food to some of our neighbors living in food deserts. Let us know if your community needs free carts or food. Or if you're in a position to help our efforts, join us!
Stay active with a scenic view
Ready to take the first steps toward improving your heart health? The First Coast has dozens of parks and trails that are great for outdoor exercise, and many of them are free! Practice yoga at Memorial Park in Riverside. Take a stroll along the beach down the Atlantic shoreline. Brave the ropes courses at UNF. Or enjoy a jog beside the St. Johns on the river walk in downtown Jax. Moral of the story? Get moving!
Teachers, empower your students with STEM
Want your daughters, students, and friends to have a fruitful career in STEM? Sadly, a troubling gender gap exists in Science, Technology, Engineering, and Math. So we're bringing local STEM leaders in Jacksonville together with middle school girls on the First Coast. This year's digital event is free, so register today if you're a teacher or the parent of a future STEM leader.
Contact Us
7751 Baymeadows Road, E., Ste. 106F
Jacksonville, FL 32256
(904) 903-5205