American Heart Association
Florida
A relentless force for longer, healthier lives in Florida.
Hispanic Serving Institution Scholars program in Miami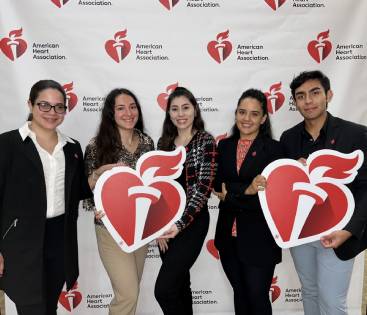 The American Heart Association Scholars at Hispanic Serving Institution (HSIs) program serves as a pipeline for diverse researchers and health care professionals by providing undergraduate students with academic and career-enriching resources, including scholarships and mentoring. Only seven states in the country are engaging in this initiative, one of which is Florida: in Miami.
Bring Nutrition to the Plate in Palm Beach
We all know nutrition is critical not just for heart health, but for the health of our entire bodies! That's why we're working directly with food pantries to make sure their clients, who represent some of our historically under-resourced communities members, have access to fruits, veggies and low-sodium options. Our Palm Beach team granted funds to 10 local pantries to help them increase cold storage capacity, launch summer and mobile food programs, and offer nutrition education to clients, so we can all lead longer, healthier lives.
Teaming up to launch East Winter Garden Market in Orlando
In collaboration with a network of community partners and with funding from the Florida Blue Foundation, the American Heart Association in Orlando launched the East Winter Garden Market, directly benefitting over 250 families battling food insecurity. This monthly resource serves East Winter Garden, an under-resourced community in the heart of a food desert whose residents experience health disparities.
Medical Breakthrough Match!
Make your gift now to DOUBLE your impact to support unfunded research that could lead to the next lifesaving breakthrough against heart disease, and support prevention education and more.
First Coast Heart Walk
Location: Jacksonville Fairgrounds
Date: Friday, September 8, 2023 - 08:00 AM
The American Heart Association is committed to driving equitable health impact in Florida through five key priority areas: women, readiness, tobacco and vaping, patients, and healthy living. Equity is always at the center of our work, and it will continue to guide all that we do.
Through our focus on these key impact areas, and with collaboration among local organizations, sponsors, businesses, and others that serve the community, we are working to improve the health and well-being of Florida citizens while saving and improving countless lives.
Throughout the state of Florida, we've seen our community impact work grow, including efforts around creating avenues for greater access to care, expanding healthy food access and education, building a network of first responders through CPR kits in schools, supporting blood pressure screenings and education, and educating on the dangers of tobacco and vaping.
People are counting on us as never before. We at the American Heart Association, along with our supporters, will drive change, and we will be relentless.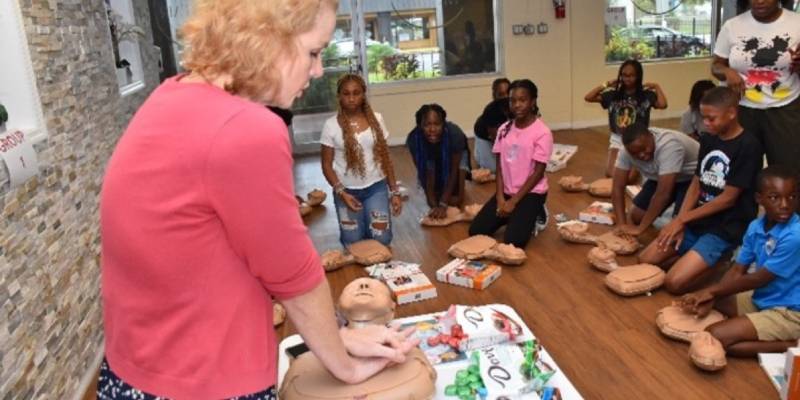 For more than 40 years, Advocacy has had a mission-critical role in the American Heart Association's work. Our legislative and regulatory priorities help to mitigate risk factors and protect survivors in communities across the country. We support the enactment of evidence-based public policies that lead to longer, healthier lives.
Public policy advocacy is an essential strategy used by the Association to affect necessary and sustainable policy, system and environmental changes that help Florida citizens build healthier lives free of cardiovascular disease and stroke.
Our efforts in Florida and its communities are focused on the following policy areas: Tobacco and Vaping, Access to Care, Medicaid Expansion, and Hypertension Prevention and Control.
Board Chairperson
Heather Havericak
Broward Health Medical Center / Salah Foundation Children's Hospital
Board President
Marcus St. John, M.D. FACC, FSCAI
Miami Cardiac & Vascular Institute Baptist Health South Florida
Leadership Development Chair
Kristen Daniels
HCA Healthcare – East Florida Division
John Stetson
Society Ambassador
John & Tarra Stetson Charitable Foundation, Inc.
Members
Pamela Africk
BestPractices USA, Inc.
Alex Almazan
Almazan Law
April Andrews-Singh RN, ALM, JD
Pediatric Associates
Negar Asdaghi, M.D., MSc, FRCPC
University of Miami Miller School of Medicine
Carlos Castresana
USI Insurance Services
David Crumley
Royal Caribbean Cruises Ltd.
Frank Fernandez
Blue Prints 4 Safety
Lawrence Franchetti
One Beat Medical
Jacqueline Guzman
City of Sunrise
Farzanna S. Haffizulla, M.D., FACP FAMWA
Nova Southeastern University
Dr. Francesco Iacona
Schiller Americas Inc.
Andrea Iglesias
Urban Health Partnerships
Dionne Polite
AARP
Jose Romano
Baptist Health South Florida
Dr. Scott Ross
Cleveland Clinic Florida
Dr. Ana Viamonte Ros
Baptist Health Medical Group
Svetlana B. Shugh, MD, FAAP
Joe DiMaggio Children's Hospital Heart Institute
Caitlin Stella, MPH
Joe DiMaggio Children's Hospital and Pediatric Services
Valerie Wanza, Ph.D.
Broward County Public Schools
Isis Zambrana
Immediate Past President
Jackson Health System
Greater Miami - Ft. Lauderdale Event Chairs
Perry Ann Reed and Dr. Redmond Burke
Nicklaus Children's Hospital
2023 Miami-Dade Heart Walk Chair
David Wagner
Florida Blue
2024 Broward Heart Walk Chair
Andrew and Deana Koenig
CITY Furniture
2024 South Florida Heart Ball Chairs
Kathy Salerno
Broward Health
2024 South Florida Go Red for Women Co-Chairperson
Ana VeigaMilton
Jose Milton Foundation
2024 South Florida Go Red for Women Co-Chairperson
Board Chairperson
Elana Schrader, MD
Guidewell/Florida Blue
Board President
Fred Kusumoto, MD
Mayo Clinic of Florida
Members
Ricardo A. Hanel, MD, PhD
Baptist Health System
Douglas M. Baer
Brooks Rehabilitation Center
Mark Bennett
Bank of America
Tom Van Berkel
The Main Street America Group
Christina Clohecy
Newfold Digital
Kara Hill
FIS
Yazan Khatib
First Coast Cardiovascular Institute
Dana Kriznar, PhD
Duval County Public Schools
Mark Lamping
Jacksonville Jaguars
Charu Raheja, PhD
TriageLogic
June Scarlett
White Plains Hospital
Christine "Chris" Smith
Baptist Health System
David M. Szymanski, PhD
UNF MedNexus
Russ Thomas
Chief Executive Office
Availity
2023 Jacksonville Heart Walk Chair

Elizabeth Thompson
Intuitive Quest, LLC
Scott Wooten, FACHE
Past Board Chairperson
S Morris Wooten LLC
Jacksonville Event Chairs
Bruce Lowthers
Chief Executive Officer and Executive Director
Paysafe
2023 First Coast Heart Ball
Christina Clohecy
Chief Financial Officer
NewFold Digital
2023 First Coast Go Red for Women
Board Chairperson
Jon Reitz
Walgreens
Board President
Linus Wodi, MD
AdventHealth
Immediate Past Chair
Jayne Willis
University of Central Florida
Immediate Past President
Ankur Garg, MD
Orlando Neurosurgery
Trey Abshier
HCA Healthcare Florida
Gul Dadlani, MD
Nemours Children's Health
David Dominato
WKMG News 6
Vanessa Garner
CVS
Jake Kirchner
HCA Healthcare Florida
Dr. Swathy Kolli
Orlando Health Heart Institute
Giorgina Pinedo-Rolon
GIO Communications
Samuel Stamps
C & S Companies
Maria Vazquez, PhD
Orange County Public Schools
Orlando Event Chairs
Kimberly Brown
AdventHealth
2023 Orlando Go Red for Women Chair
Brad Hillmon
AdventHealth
2023 Greater Orlando Heart Walk Chair
Dr. Marshall Cress and Dr. Arnaldo Velez
Orlando Health
2023 Orlando Heart Ball Chairs
Board Chairperson
Grasford W. Smith
Akerman LLP
Board President
Fontaine Timmer, DNP
Palm Beach Atlantic University
Immediate Past Board President
Anita Wilborn, MD
Tenet Physician Services
Leadership Development Chair
Roger Duncan, MD
Palms West Hospital
Members
Teresita Casanova, MD
Medical Specialists of the Palm Beaches
Darcy Davis
Health Care District of Palm Beach County
John A. Domenico
Bank of America – Private Bank
Hilda Gonzalez
Palm Beach County Sheriff's Office
Michele Jacobs
Economic Council of Palm Beach County
Trey Mahoney
UBS Financial Services
Gina Melby
HCA Florida JFK Hospital
Dawn Nichols
NextEra Energy, Inc.
Shana D. Peterson Sheptak
PNC Bank
Erica Whitfield
School District of Palm Beach County
Palm Beach Event Chairs
Laurie Silvers
Hollywood.com and Media Entrepreneur
2023 Palm Beach Heart Ball Chairperson
Ashley Vertuno
HCA Florida JFK North
2023 Palm Beach County Go Red for Women Chairperson
Pam Rauch
Florida Power & Light Company
2024 Palm Beach County Go Red for Women Chairperson
Brian Maciak
TBC Corporation & Big O Tires
2023 Palm Beach County Heart Walk Chairman
Wilhemina Lewis, MD
Florida Community Health Centers, Inc.
Health Equity Council Chairperson
Board Chairperson
PJ Bimonte
Arthrex
Board President
Eric Eason, MD.
Lee Health
Members
Pam Calligaro
Philanthropist
Commander Jamie Cunningham
CCSO
Michelle Fitzgerald
Encompass Health
Jason Grabowski
B&I Contractors
Jon Kling
NCH
Phil Loiacano
Busey Wealth Management
Shadreka McIntosh
Sozo Pharmacy
Ben Siegel
LCPA
Stephanie Wardein
Lee Health
Southwest Florida Event Chairs
Tyler Kitson
Communities, Kitson & Partners
2023 Southwest FL Heart Ball Chair
Rebekah Barney
The Alzada Company
2023 Southwest FL Go Red for Women Co-Chair
Deborah Antoine
2023 Southwest FL Go Red for Women Co-Chair
Board Chairperson
Kye Mitchell
Kforce
Board President
Lucila Ramiro, MD
Community Leader
Leadership Development Chair
Artemis Emslie
Cadence Rx
Health Equity Committee Chair
Dr. Kevin Sneed
University of South Florida
Bruce Bergherm
AdventHealth West Florida
Ravi Chari, MD
HCA West Division
Addison Davis
Hillsborough County Public Schools
Tash Elwyn
Raymond James & Associates
Kimberly Guy
St. Joseph's Hospital, BayCare Health System
Connor Lewis
Ryan Companies
Guilherme Oliveira, MD
University of South Florida, Tampa General Hospital
Danny Persau
MidFlorida Armored
Debbie Rinde-Hoffman, MD
Tampa General Medical Group
Robert Sanchez, MD
HCA Physician Services Group
Chuck Sykes
Skykes
Jim Thompson, MD
Johns Hopkins All Children's Hospital
Trey Traviesa
Fort Brooke Merchant Partners
Tampa Event Chairs
Amanda Stevens
Raymond James Bank
2023 Tampa Go Red for Women Chair
Danny Persaud
MidFlorida Armored & ATM Services
2023 Tampa Heart Ball Chair
Archie Collins
TECO
2023 Tampa Heart Walk Chair
Live Fierce City Champions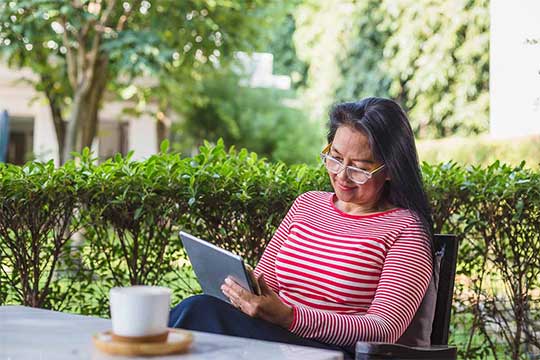 Heart and Stroke News
Find science-based stories about heart and brain health and inspiring survivor profiles from American Heart Association News.