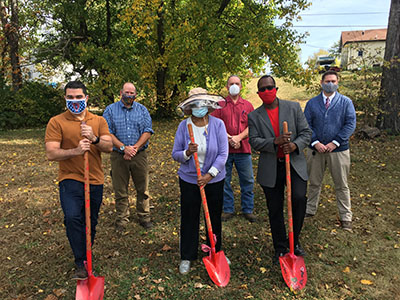 Expanded Community Garden to Serve Hillside Neighborhood
The American Heart Association and companies from the construction industry are working together to expand a community garden in the Hillside neighborhood on Indianapolis' near north side. The improved garden will provide fresh produce in an area in a designated food desert.
Located near 20th St. & Hillside Ave., the land has had a garden in one form or another for most of the last 80 years. Recently, the AHA came alongside Shirley Webster, the owner of the land, to develop a garden that can have a bigger impact on the surrounding neighborhood.
"I'm grateful to be able to host this community garden as a way to improve the lives of my neighbors," Webster said. "I want to thank the American Heart Association for bringing all these companies together to create something that will have a lasting impact on so many people."
The land was recently tilled and staked, and the permit process for drainage and further construction is in process. Over the next few months, sponsor companies will install electrical and plumbing. Raised garden beds will be built at an indoor facility before being moved to the garden in time for planting in the spring. The finished garden will be more than 10,000 square feet and will include a storage shed.
"Our mission is to help people live longer, healthier lives," said Dr. Jerry Smartt, a member of the AHA's Indianapolis board of directors. "This garden not only enables people in the Hillside area to have access to fresh, healthy foods, but it has grown out of a program that helps people monitor and control their blood pressure – a leading risk factor of heart attack and stroke.
"We certainly couldn't do this without the generous support of these companies in the construction industry as well as the many people who support the American Heart Association every year.
The Hillside Community Garden Title Sponsor is
Other supporting sponsors include American Structurepoint, Bowen Engineering, Byrider, Eskenazi Health, Indiana/Kentucky/Ohio Regional Council of Carpenters, JPS Engineers, Messer Construction, Pepper Construction and Synthesis.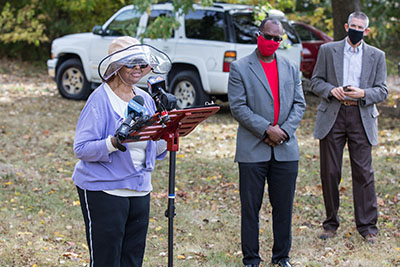 About the Hillside Neighborhood
The Hillside neighborhood in Indianapolis is bordered by 25th Street on the north and the Monon Trail on the east. Massachusetts Avenue creates a diagonal border on the south running to Rural Street on the west. The neighborhood is in the 46218 ZIP code. Notable facts about the 46218 ZIP code include:
A new $5.9 million public library opened in 2020
$3.3 million Edna Martin Christian Center Leadership and Legacy Center opened in 2018
KIPP charter high school opened in 2019
40 percent live in poverty, highest percentage among Marion County's 36 ZIP codes (2018 census data)
---