American Heart Association
Phoenix
Help us ensure that everyone in Arizona has the opportunity to live a longer, healthier life.
We're striving to create a world free of heart disease and stroke - a world where everyone can achieve the best possible health - and it starts right here in Phoenix. From developing initiatives that make healthier food options available in all neighborhoods, to protecting our kids from the dangers of smoking and advocating for raising the tobacco sale age to 21 – together we are making it easier to be healthy where we live, work, learn and play.
Join us in our efforts and help us build a healthier Phoenix!
Help save lives from heart disease and stroke
Heart disease and stroke are leading causes of death and disability in the U.S., and we need your help today. Please give now to support lifesaving research, medical breakthroughs and the critical programs heart and stroke patients count on.
Local Events
Fight heart disease and stroke in Phoenix by joining us at an event!
There are no upcoming events in your area at this time.
Funding Scientific Research for Congenital Heart Defects and Cardiovascular Diseases
Addison Blossey, a four-year-old little girl in Phoenix, was born with a congenital heart defect. She spent her first eight months in the hospital and in her short lifetime, she has already had several treatments and surgeries, including open heart surgery. Having served as our 2021 Phoenix Heart Walk Digital Experience Passion Story, Addison's journey has touched the lives of hundreds and has helped raised awareness about the importance of funding scientific research that supports those fighting cardiovascular diseases.
Making an Impact in Phoenix
The Greater Phoenix Division achieved a great win this summer in food security. They teamed up with Arizona Lottery and Gregory's Fresh Market to provide 4,000 pounds of fresh produce, science-based nutritional education and heart-healthy recipes to more than 400 local seniors.
Life is Why - Shop with Heart
The American Heart Association receives much-needed funding from the "Life is Why Shopping Experience" sales to fight heart disease and stroke, the nation's No. 1 and No. 5 killers of both men and women.
Stacey was camping with her family in Utah on June 19, 2017 when she began to feel nauseous and severe heartburn.

Confusion set in and that is when she remembered the AHA's "Just A Little Heart Attack" video that she watched at a previous Phoenix Go Red for Women event. Her daughter and her stopped by the nearest ER before their eight-hour drive home, and Stacey is so glad they did.

After being examined, her blood tests showed that she was in the middle of an active heart attack.

What should have been a 30-minute procedure took more than two hours as the cardiac surgeon had never seen her condition before. She had two stents placed to repair the tear in her artery, and discovered she suffered from a condition called SCAD, Spontaneous Coronary Artery Dissection. It is a rare condition that has only a 50% chance of survival.

"A big thanks to the AHA for bringing awareness to women's heart disease," she said. "Your video taught me the heart attack warning signs and saved my life."
Watch "Just a Little Heart Attack" to learn the heart attack warning signs
Every year, thousands of Arizona heart and stroke patients suffer because the right care at the right time isn't accessible.
We're working to improve access to quality healthcare for all and, thanks to our Get With The Guidelines® programs, 8,506 Phoenix patients received a higher quality of care this year. But there are still many residents who do not have available options for healthy living or medical care. Join us in our mission and help us advance the health of all Phoenicians, ensuring everyone has access to quality healthcare and receives timely treatments for heart disease and stroke.
July 6, 2017 is a memorable day for Mark Johnson. It marked his 60th birthday—a birthday he shares with his husband, Tom—and is also the day he had his first heart attack.

He was traveling with Tom at the time, and they were in the process of driving from Chicago to Arizona. During a stop in St. Louis, Mark began feeling breathless and discomfort in his left shoulder. He went to the ER and learned he had had suffered a heart attack. He had two stents placed and was released from the hospital two days later.

He now lives in Scottsdale, has changed his diet and lost 20 pounds. While many would focus on the negative, Mark views the experience as an opportunity to help others.

"Since I survived this, I feel like I've been given a gift that I need to share," he said. "Nobody wants to have a heart attack, but there are things you can do to manage your lifestyle. It's not the end, life can go on and you can get through it."
1 of 3
Nourishing Families
There is a 14-year life expectancy discrepancy between residents who live in South Phoenix (71 years) and those who live in North Scottsdale (85 years). This is a critical issue as a person's zip code and social determinants can influence their cardiovascular health factors and behaviors. It also showcases income inequality and proves that some residents often lack access to healthcare and affordable, healthy food.
How is AHA Making an Impact?
2 of 3
Healthy eating is very important in the prevention and management of chronic diseases like heart disease.
That's why the American Heart Association Phoenix Division is advocating for underserved populations and collaborating with community groups to address food insecurity. Everyone deserves an optimal opportunity to be healthy, but too many communities lack places to buy healthy food, get good healthcare and be physically active.
Tempe Tardeada
To help address the challenges that many people in the Phoenix community face when it comes to access and affordability of healthy food, the AHA Phoenix Division hosted a booth at Tempe Tardeada on Oct. 6, 2019. A collaborative effort with Farm Express and The Thunderbirds, the event provided attendees an opportunity to obtain heart-healthy recipes, enjoy a taste tasting and get their blood pressure checked. Additionally, nearly 400 food vouchers were also distributed to families.
Eat Smart Program
We're taking the AHA's 'Eat Smart program' out into the community and encouraging residents to eat more fruits and veggies, add healthier alternatives to their meals. We're also providing food vouchers to participants, so they have easy access to quality produce.
American Heart Association Greater Phoenix Division and Dr. Stacie J. Stephenson's Vibrant Doc Launch Collaboration to Fight Cardiovascular Disease
Heart disease is the leading cause of death among Americans and, every 37 seconds, someone dies of cardiovascular disease in the U.S. With education and action, 80 percent of cardiac events can be prevented.
Vibrant Doc's support will benefit the AHA's lifesaving work and efforts to improve cardiovascular health, including funding innovative scientific research, developing health programs, and advocating for policies that positively transform heart health.
Protecting our Youth
Tobacco products are creating a whole new generation of smokers by targeting our youth. In fact, 1 in 5 Arizona high school students are vaping.
Approximately, 115,000 Arizona kids alive now will ultimately die prematurely from smoking if current trends continue.
In 2019, the Arizona advocacy team defeated Big Tobacco by blocking a bill that would restrict cities' and town's abilities to regulate tobacco products, including e-products. We are leading the way in urging regulation of these e-cigarette devices, like JUUL, and ensuring they stay out of the hands of kids. But we can't do it alone.
Research shows that raising the legal sale age of tobacco from 18 to 21 greatly reduces youth tobacco use and prevents kids from starting to smoke.
CPR Saves Lives
Emergencies leave us feeling helpless, but they don't have to. In an effort to ensure that everyone is prepared in an emergency, Senate Bill 1137 was passed in 2016 with a three-year phase in approach. The bill states that by the 2019-2020 school year, every student in a public or charter high school in Arizona will be required to learn Hands-Only CPR at least once in their high school career. Arizona is now the 32nd state to pass Hand-Only CPR as a high school graduation requirement, helping to create a new generation of lifesavers. 70 percent of out-of-hospital cardiac arrests happen in homes. When a person has a cardiac arrest, immediate CPR can double or triple their chance of survival.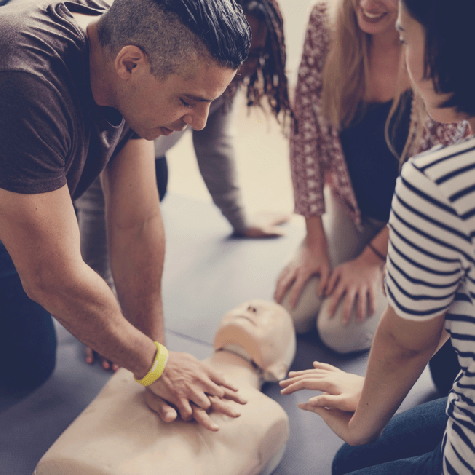 Contact Us
1910 W. University Dr., Suite 205
Tempe, AZ 85281
(602) 414-5353
Contact our Phoenix Team