American Heart Association
Arizona
A relentless force for longer, healthier lives in our community.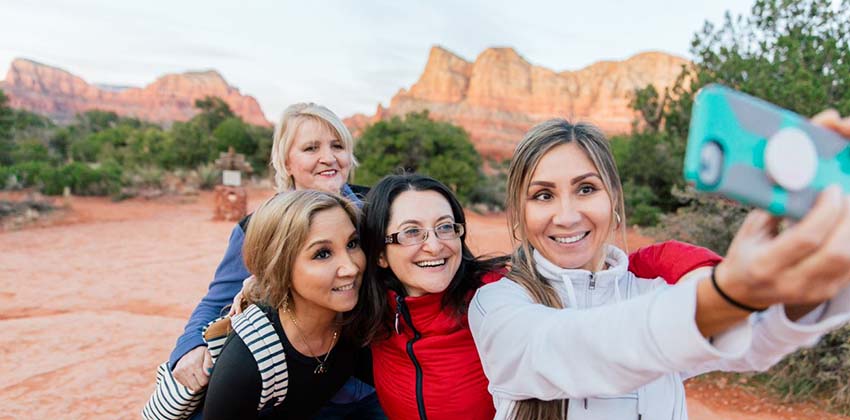 Phoenix, Let's Focus on Mental Health

Setbacks in life are inevitable. Learning to deal with them will change your life – and your health.
Educating young women in Tucson about STEM careers
Volunteer Phoebe Chalk-Wadsworth was interviewed by News 4 Tucson, KVOA at STEM Goes Red held in Arizona's Tech Parks.
Chicken and Black Bean Tostadas with Avocado Cream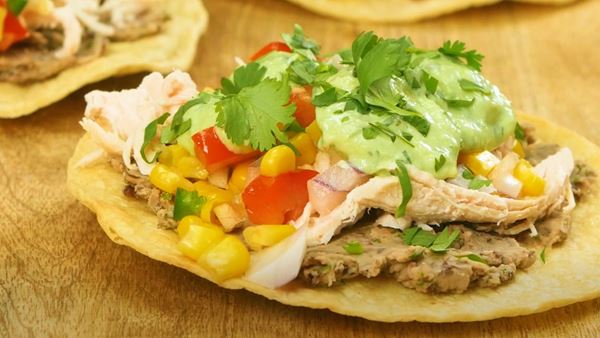 The toasted tortillas provide a crispy base for this delicious Mexican dinner.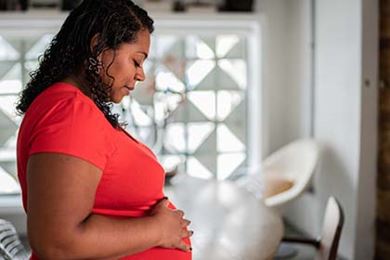 Noticias en español
La tasa de mortalidad materna entre mujeres latinas subió bruscamente en el 2020, y la mayoría de los decesos fueron por problemas cardiovasculares.
YOUR GIFT NOW MATCHED $-for-$!
Don't miss this chance to make 2X the difference! When you share your heart with a gift now, it will be MATCHED to help save more lives.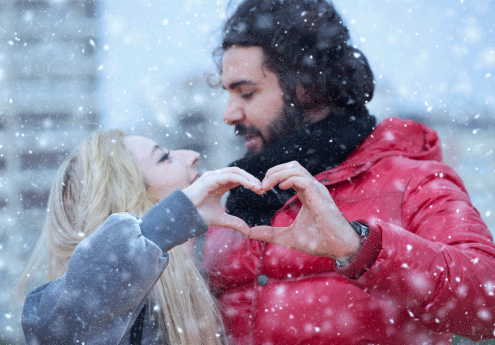 There are no upcoming events in your area at this time.
Emergencies leave us feeling helpless, but they don't have to. In an effort to ensure that more people are prepared during a crisis, Senate Bill 1137 was passed in 2016 with a three-year phase in approach. The bill states that by the 2019-2020 school year, every student in a public or charter high school in Arizona would be required to learn Hands-Only CPR at least once in their high school journey.
Arizona is now the 32nd state to pass Hands-Only CPR as a high school graduation requirement, helping to create a new generation of lifesavers. This fall, the American Heart Association Phoenix Division visited North Canyon High School, delivered CPR in Schools Training kits and equipped 25 students with the two steps to save a life. Donated by the Paradise Valley Multi-Specialty Surgery Center, the kits feature the latest science and teach AED use and choking relief.
When a person has a cardiac arrest, immediate CPR can double or triple their chance of survival. By teaching today's youth the lifesaving skill of Hands-Only CPR, we're putting more heart heroes in the Phoenix community.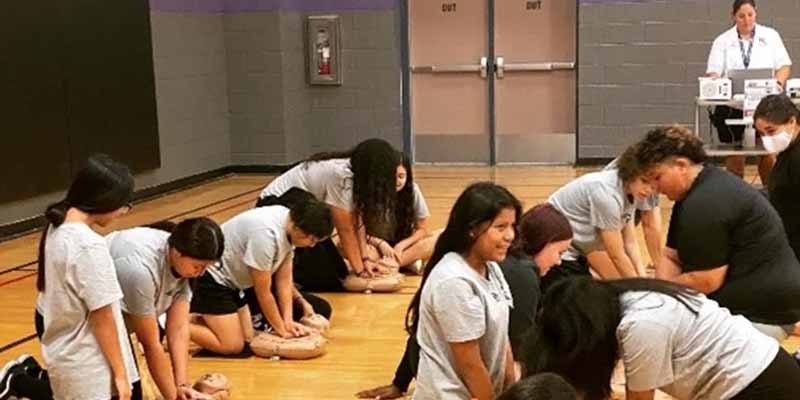 The American Heart Association in Southern Arizona worked with Wanda F. Moore, chair of the Sarver Heart Center Minority Outreach committee, on a Self-Monitoring Blood Pressure (SMBP) Train the Trainer program. Wanda recruited thirteen faith-based organizations and groups to implement the first round of the SMBP program for 6 months starting April 21, 2021. The second round of the program started in February 2022 with another group of community partners and churches. The program would last four months.
Association staff worked with Wanda to provide training and materials such as blood pressure cuffs. Through a grant, the Association also provided a part-time coordinator to support Moore and other volunteers. These volunteers are trained to become community trainers, able to assist members in each faith-based organization to monitor their blood pressure correctly and consistently accord to the American Heart Association guidelines.
By providing valuable resources and education, passionate volunteers like Wanda Moore, her committee and the American Heart Association are working relentlessly to close health gaps in Southern Arizona.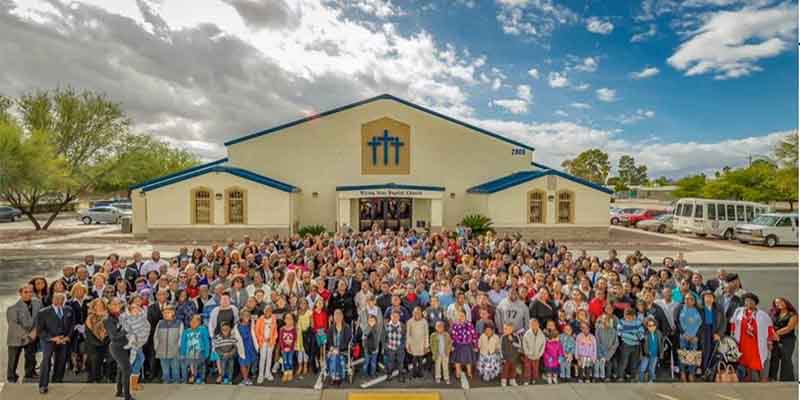 Advocacy has had a mission-critical role in the Association's work for more than 40 years. Our legislative and regulatory priorities help to mitigate risk factors and protect survivors in communities across the country. We support the enactment of evidence-based public policies that lead to longer, healthier lives.
Our efforts in Arizona and its communities are focused on five major policy areas. These are: Tobacco Free, Quality Systems of Care, Healthy Eating, Active Living, and Access to Care.
Tobacco products are creating a whole new generation of smokers by targeting our youth. In fact, 1 in 5 Arizona high school students are vaping.
Approximately, 115,000 Arizona kids alive now will ultimately die prematurely from smoking if current trends continue.
In 2020, the Arizona Advocacy team once again defeated Big Tobacco by blocking another attempt to ban cities and towns from regulating tobacco products; including e-cigarettes. Arizona is one of a handful of states that does not have a tobacco retail license, so there is no way to know where tobacco retail products are being sold and most importantly, there is no way to ensure that retailers are not selling to those under the age of 21. We are leading the way, along with many other health organizations, education collaborators and local communities in establishing real and effective tobacco retail licensure in Arizona.
Help us continue to make Arizona a healthier place to live, work, play and pray. Join our network of You're the Cure advocates.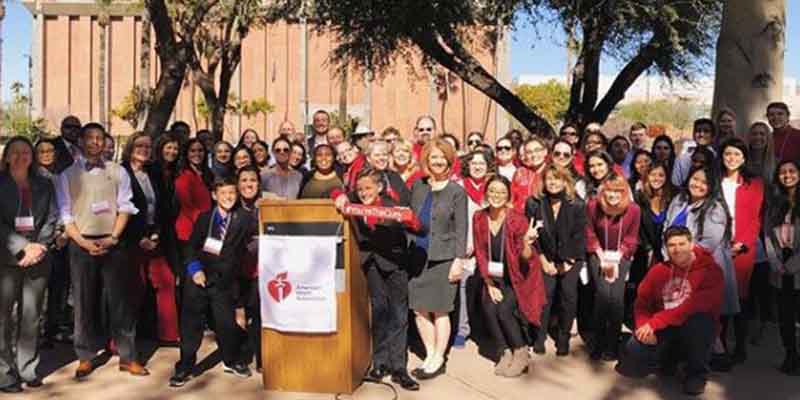 Katherine Kenny, DNP, RN, ANP-BC, FAANP, FAAN
– President
Arizona State University,
College of Nursing and Health Innovation
Associate Dean of Academic Affairs
Term: 2016-2024
Meghan Shapiro
– Chair
Laboratory Sciences of Arizona/Sonora Quest Laboratories
COO, LSA Hospital Laboratories
Term: 2019-2024
Rachel Bond, MD, FAAC
Dignity Health, Arizona
System Director, Women's Heart Health
Term: 2019-2023
Pedro Cons
Adelatne Healthcare
CEO
Term: 2022-2024
Oana Dumitrascu, MD, MSc
Mayo Clinic
Vascular Neurology Senior Associate Consultant,
Associate Professor of Neurology
Term: 2021-2023
Reshmaal Gomes, MD, FACC, MRCP
Phoenix Heart LLC
Cardiologist
Term: 2020-2024
Isauro "Izzy" Gonzales
IEG Consulting
Small Business Consulting
Term: 2022-2024
Max Gonzales
Chicanos Por La Causa
Executive Vice President,
Strategy & Relationship Management
Term: 2018-2024
Ingrid E. Haas, MD
President – Elect
Community Volunteer/Retired Physician
Term: 2020-2026
Heather Kane
UnitedHealthCare
CEO, UnitedHealthCare of AZ and NM
Term: 2020-2024
Trista Loops - Chair- Elect
Arizona Complete Health
Plan Chief Financial Officer
Term: 2020-2024
Lori A. Mallory
Blue Cross Blue Shield of Arizona
Vice President, Transformation
Term: 202-2024
Kevin J. Mendivil, PhD
Tempe Union High School District
Superintendent
Term: 2021-2023
Jeff Meshey
Desert Financial Credit Union
President and CEO
Term: 2022-2024
Christopher Nickle
McCarthy Building Companies, Inc.
Executive Vice President
Term: 2021-2023
Kristi Wilson, Ed. D
Buckeye Elementary School District
Superintendent
Term: 2020-2024
Greg Taylor – Board Chair
Arizona Complete Health
Dr. Reza Movahed - Board President
Cardio Care
Dr. Eric Cornidez - Board President Elect
Pain Institute of Southern Arizona
Dr. Joseph Alpert
Sarver Heart Center
Stefanie Boe
Bayer Crop Sciences
Debora Bornmann
Cornerstone Specialty Hospital
Sarah Frost
Banner Health
Dr. Nooshin Hashemzadeh
La Vie Derma
Alex Levin
Levin Risk Management
Peter Loya
Tech Parks Arizona
Suzanna Pangburn
Edwards Lifesciences
Anthony Schaefer
Long Realty
Dee Anne Thomas
Arizona Lotus Corp
Dr. Gabriel Trujillo
Tucson Unified School District
Monica Vargas
Carondelet Health Network
Anthony Ventress
Sunquest Information Systems
Contact Us
Phoenix
1910 W. University Dr., Suite 205
Tempe, AZ 85281
Phone: (602) 414-5353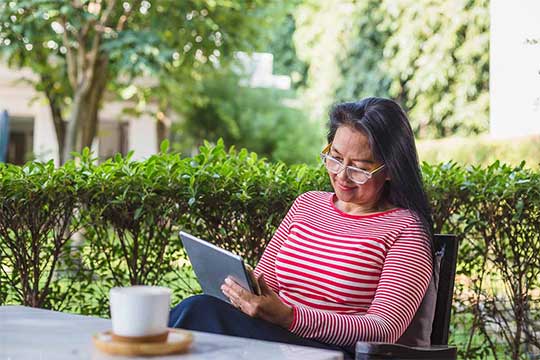 Heart and Stroke News
Find science-based stories about heart and brain health and inspiring survivor profiles from American Heart Association News.