Tom Hablitzel
Hudson, Ohio | 1924 Circle, Paul Dudley White Legacy Society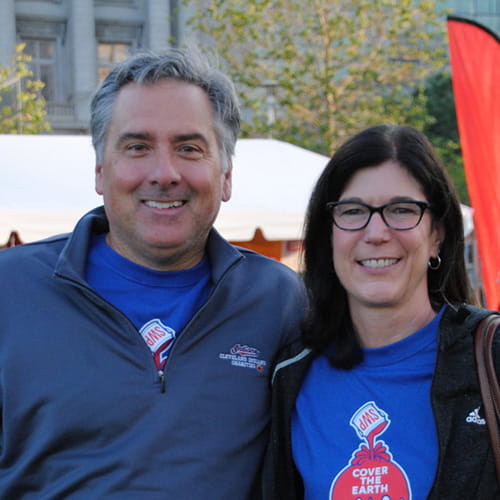 When Tom Hablitzel was first asked to volunteer with the American Heart Association for the Cleveland Heart Walk more than 10 years ago, it wasn't a difficult decision. "I was recruited by two highly respected women in my professional network, who were both aware of my personal connection to the AHA's mission. They were both current AHA Board Members and as it was, with their encouragement, an easy decision for me," he said.
Tom's mother Jo Ann Hablitzel died suddenly at the age of 61 due to complications following a mild heart attack and an allergic reaction to a blood thinning medication. Tom said, "My mom was a very special person, one of seven children, a mother of four and a school teacher for nearly thirty years. She was a well liked and respected person in the community. She always worked very hard and looked for opportunities to help her students and neighbors." Although Jo Ann was a teacher, she never had him as a student, she certainly instilled the value of education into Tom and his brothers and sisters. Since her passing, Tom and his family have established scholarships in her name as well as the Jo Ann Hablitzel Legacy Research Reception in Cleveland. The event rotates between hospital systems in the area annually, connecting funders with researchers and showing off the latest advances in cardiovascular science.
Although Tom has been honored by the American Heart Association many times, he describes one of the most impactful moments he has experienced was while attending a Cleveland Heart Ball and listening to the words of two doctors being recognized for their lifetime achievement. "At a very proud moment in the lives of two highly respected cardiologists, they recognized their career paths were greatly influenced by benefiting from the funding of an AHA grant. I recognized that funding a grant was not a donation, but rather a very powerful investment in our future," he said.
When Tom first chose to fund a research project with the American Heart Association, he chose a researcher at Case Western Reserve University who was studying the impact of blood thinners and the cause of his mother's fatal reaction. He said, "it felt beyond coincidence, that we found a grant in Cleveland at a University I was serving on an Advisory Board, that was researching the cause of my mother's death. It provided a time of healing to a great personal loss as well as confidence we were making a great decision in helping others."
He and his wife Jan are now in their third course of funding researchers with the Association, funding a pre-doctoral pediatric research project at their alma mater the University of Toledo. "Like Isaac Newton said, we're standing on the shoulders of giants, and as we approach the AHA's second century, it's a great time to recognize those who came before us, but nothing is more important than what's in front of us. Let's keep going and make the world a better place."