Oscar Munoz
Chicago, Illinois | Heart & Torch Circle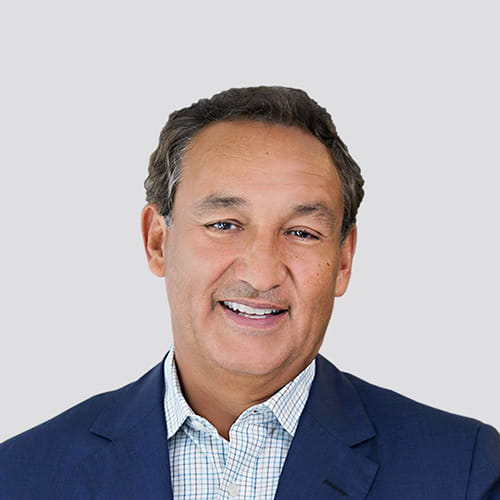 Just 37 days after taking the helm of United Airlines, in a moment of steep turbulence for the storied company, Oscar Munoz was returning from an early morning workout when his own life suddenly hung in the balance. Looking back, Oscar, now retired as CEO and Executive Chairman of United, seemed an unlikely sufferer of cardiac disease - living an active lifestyle as a marathon runner and triathlete, maintaining a strict vegan diet.
On that October morning, his knees buckled. He remembers thinking, "That was weird," but recalled a recent conversation with a doctor friend who had told him not to ignore any weird feelings, and to call 911 immediately. Munoz did just that, and barely remembers fumbling to unlock the front door for the paramedics who were on the way, falling and breaking his nose in the process.
He had suffered a massive heart attack and was in a coma for a week in the hospital. He received an LVAD, a Left Ventricular Assist Device, to keep his heart pumping, and was placed on a heart transplant waiting list. To Munoz, his heart issues were extremely surprising given his dedication to healthy eating and fitness. Unfortunately for Munoz, his risk for heart disease was in his genes. "This is why symptoms matter so much," Munoz said. "It's genetic in a lot of people, and it was with me."
A few months later in January 2016, coincidentally on his birthday, Munoz received the call that he had been matched with a donor heart and he successfully underwent a heart transplant procedure later that month. "I was given a gift of, in essence, life," Munoz said. His recovery went smoothly, and he returned to work in March.
But he knows not everyone is as fortunate, especially those from underserved communities who encounter social and economic barriers to health equity. "For every one of us that is saved, unfortunately, there are many that aren't," Munoz said.
His experience with heart disease has motivated him to share his own story, helping to raise awareness on the risk factors for heart disease and the signs of heart attacks, with a strategic focus on helping the American Heart Association address health equity. Munoz is a key supporter of the AHA's Social Impact Fund in Chicago, where various social enterprises are being funded that are helping to remove systemic barriers that impact access to affordable housing, quality education, nutritious food, and healthcare. Munoz is steadfastly committed to helping the AHA achieve optimal, healthier lives for all.
In addition to being an annual Heart and Torch Circle member of the Cor Vitae Society, Munoz has also recently been recognized as a Cornerstone Donor, supporting AHA's Second Century Campaign leading up to the organization's centennial celebration in 2024.