The Social Impact Funds
In the News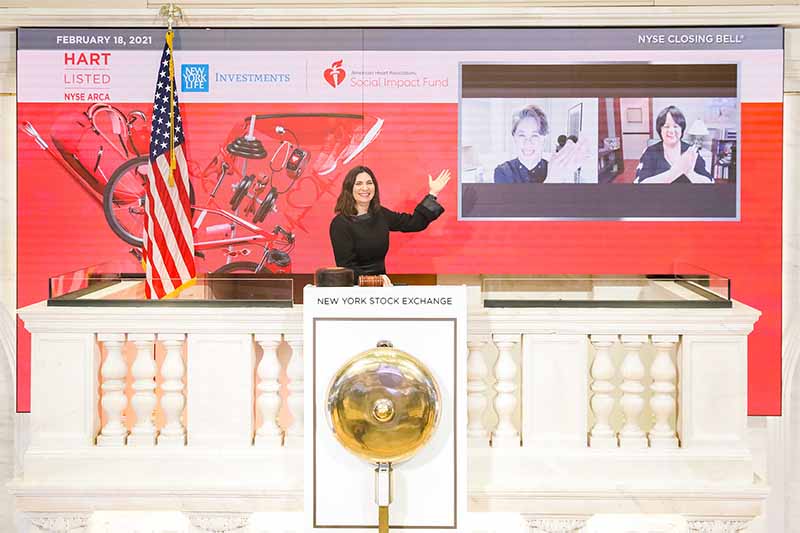 Financial Wellness:
Plan Today for a Rainy Day
New York Life Investments is a supporter of the American Heart Association and its Social Impact Fund through its Healthy Hearts ETF
September 2022 – Having good physical and mental health is important for women, but it's also wise to be in charge of your financial health, too.
Because an unforeseen event like a pandemic, job loss or health crisis can be stressful, it's a smart idea to plan for the unexpected. Planning ahead now can take away some of the stress later for you and your family. And, if you're a mom, you want to be sure you've got your family taken care of, no matter what tomorrow brings.
COVID-19 had a devastating effect on employment overall but especially on working mothers. In pre-pandemic times, about 70% of mothers living with their own school-age children worked. At the onset of the pandemic, nearly 45% of them were not actively working, according to a 2020 Current Population Survey conducted jointly by the U.S. Census Bureau and U.S. Bureau of Labor Statistics.
So, first things first: Start an emergency fund before there is an emergency. Experts suggest having at least three to six months' worth of expenses (ideally up to 12 months) tucked away in cash and easily accessible. A great place to keep your emergency fund is in a high-yield savings account. That way you can earn a little bit of interest while keeping it separate from your checking and any other accounts. Even if you put in a few dollars a month, you'll be surprised how fast it can add up. And, it'll be ready if and when you need it.
If that rainy day does come (and here's hoping it doesn't), here are some tips on how to best manage your finances during this time.

Maintain Your Health Insurance
In most cases, your health insurance from your company will remain active through the end of the month that you lose your job. Be sure to request a 60- or 90-day supply of any medications that you take regularly from your primary care provider.

COBRA allows workers who lose their benefits, such as through job loss, the right to choose to continue the group health insurance provided by their employer for a limited time. This option will provide the least disruption in coverage but most likely will be expensive. So, depending on your rainy-day savings, you may want to look elsewhere for health care insurance or use COBRA only until you can get other coverage.

The marketplace or health insurance exchange in your state is another option for health insurance. You can find these opportunities through your state's website. You can also explore options for Medicaid, which is health coverage for people with low incomes. Children may be covered by Medicaid or your state's Children's Health Insurance Program (CHIP).

Tip: It may be tempting to drop your health insurance due to the cost, but it's important to maintain coverage to avoid expensive medical bills if a health event comes up for you or your kids during this time.
Manage Your Debt
Student loans: Update your income through your student loan servicer's website or give them a call to ask for your payments to be adjusted.

Tip: Never pay an outside company to help with your federal student loans. Your loan servicer will help you for free. Contact your servicer to apply for income-driven repayment plans, student loan forgiveness and more.

Credit card debt: Pay your credit card minimums on time. Avoid late payments since they can hurt your credit score. If you have an excellent credit score, consider credit card debt consolidation takes multiple credit card balances and combines them into one monthly payment that charges no interest for a promotional period. A good balance transfer card will not charge an annual fee, but many issuers charge a onetime balance transfer fee of 3% to 5% of the amount transferred. Before you choose this option, calculate whether the interest you save over time will wipe out the cost of the fee.

Tip: Call your credit card companies and ask for a reduced interest rate or a hardship plan. Also, ask if they offer a balance transfer offer.

Mortgage/Rent: If you have a mortgage, call your lender to discuss your options, such as a hardship program that could provide some temporary relief or mortgage forbearance. Before agreeing to these or other options, be sure you understand the fine print before signing on the dotted line. If you pay rent, call your landlord to discuss your situation.

Reduce Your Expenses
Review fixed expenses.
Review your standard monthly payments to determine if there is anything that you and your family can live without. Think about the "extras" like streaming, landscaping or cleaning services, or kids' extracurricular activities, such as dance or music lessons.

Tip: Call your service providers, including the gas, electric, cable and phone company, and explain your situation. You may be able to temporarily reduce your monthly bills.
Adjust variable spending.
Think about what you can cut out of your monthly budget like taking the kids out for pizza or to the movies or impulse buys at the grocery shopping.

Cook and eat more at home. Get your kids involved in the kitchen and try some of these healthy recipes, many of which are budget-friendly.

Watch movies at home and pop your own popcorn.

Tip: Try using cash rather than credit cards when possible. Making purchases with actual money can help you account more easily for what you buy.
Utilize community and state resources.
Check out local food pantries and the Little Free Pantry network as well as lunch programs in your school district that can help stretch your family food budget further.

Visit your local library with your kids for free books, movies, events, activities and more.

Look for Little Free Libraries in your area for easy access to free book sharing.

Consider selling unwanted or unneeded items, such as kids' clothes or toys they've outgrown, for some extra cash at local consignment shops.

Go online to determine if you are eligible for SNAP (Supplemental Nutrition Assistance Program).

Tip: Call 211 to find about local resources.