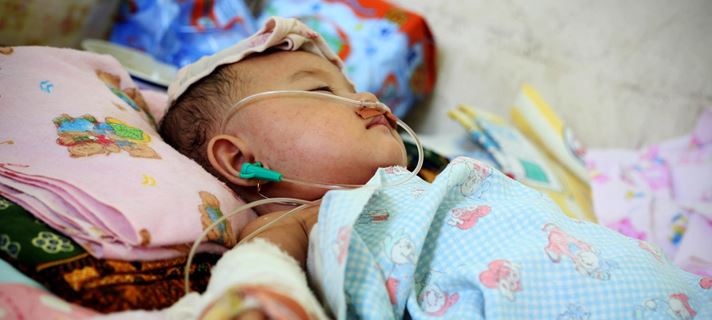 Standing For Children
Right now, 6.3 million children under the age of 5 die each year. 4 million of those deaths occur in limited resource countries like Africa and Southeast Asia and are often the result of acute illnesses like pneumonia, severe diarrhea and sepsis -- which could be prevented or treated with access to simple, affordable interventions.
For over 50 years the AHA has created quality, science-based lifesaving cardiovascular care training programs. We know from this experience that increasing basic, yet critical, life support knowledge and skills among healthcare providers, can save more lives.
The AHA pediatric training program, Pediatric Emergency Assessment Resuscitation and Stabilization (PEARS®) teaches healthcare providers how to recognize respiratory distress, shock and cardiac arrest, and provide appropriate lifesaving interventions within the initial minutes of care for seriously ill or injured infants and children.
By localizing the PEARS program to the needs of limited resource areas, we can make it relevant to the experience of front-line community healthcare workers, helping them apply that same proven science using available resources.
Saving Children's Lives Additional Information
Overview
In 2013, pediatric emergency and critical care colleagues at Children's Hospital of Philadelphia, core leaders from Helping Babies Breathe, and AHA began the first Saving Children's Lives programs in Africa. Utilizing the AHA PEARS training program, a "train-the-trainer" approach to create new instructors and with input from local Ministries of Health, Saving Children's Lives is helping to create a sustainable pediatric training program for community health workers and healthcare providers in Botswana and Tanzania.
The target learners are providers who evaluate acutely ill children in community clinics, accident and emergency and inpatient wards. The objective of this 2-day training program, which includes interactive lectures and hands on skills training, is for providers to identify the acutely ill child, initiate stabilizing treatment and refer to a hospital.
Program Model
Our program development model is built on four pillars:
Listen. We assess the challenges of treating children within an environment including health care worker capability, available equipment and supplies, and existing treatment protocols. This allows us to contextualize the training for maximum impact.
Train. Utilizing AHA programs like PEARS we implement a tailored training experience with pre and post testing to ensure we document trainee progress.
Observe. We stay connected to our trainees to learn how they use their new skills to help us continually refine and focus our training programs on areas of need.
Scale. Once we have refined our training processes we implement a "train the trainer" approach to develop scalable training solutions with local instructors and ownership and sustainability. We look to develop national training strategies that help the program grow.
Results
Since 2013:
206 doctors and nurses have received PEARS provider training
20 instructors have been trained to help continue quality training in the region.
Read the scientific paper on our Saving Children's Lives Botswana program that has recently been published (Wright et al. Impact of contextualized pediatric resuscitation training on pediatric healthcare providers in Botswana. Resuscitation. 2015 Mar; 88:57-62.)
SCL India
In December, 2014 we held a Saving Children's Lives demonstration class in Baroda, Gujarat, India. Prior to holding the class, AHA volunteers and staff visited the Gujarat Chief Minister to discuss the program and obtain governmental support.
Recent fundraising has provided the ability to hold training in this part India for at one year. A Saving Children's Lives India Steering Group, made up of 4-5 instructors, will be leading subsequent courses contextualized for Gujarat.
Looking to the Future
The American Heart Association works to provide science and training programs to help save the lives of more children around the world. Our goal with Saving Children's Lives is to create a sustainable program of pediatric lifesaving training for providers who evaluate acutely ill children in community clinics, accident and emergency and inpatient wards in India, Botswana, Tanzania … and beyond. We hope to build on the current Saving Children's Lives programs to other areas and impact the lives of more children around the world.
---