---
Heart struggles may inspire women to make lifestyle changes
By American Heart Association News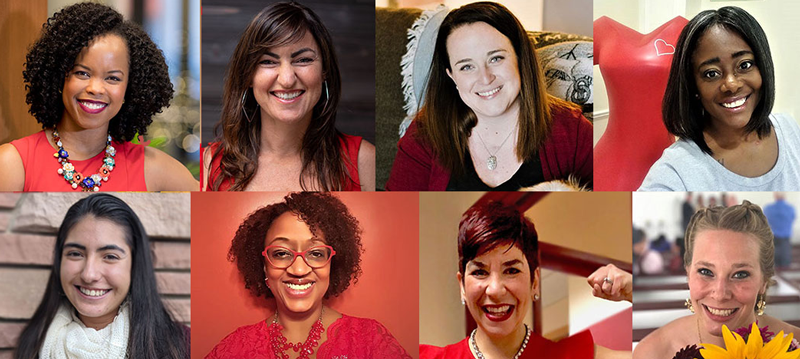 Diabetes showed no mercy on Debora Grandison's family. Diabetes-related heart disease killed three men — her brother, her dad and her uncle — in just four years.
Still Grandison is determined not to let heart disease have the last word.
"I want to share my story and empower women to support each other and know they aren't alone," said Grandison, who lives in Ballwin, Missouri. She's part of the American Heart Association's Go Red for Women movement, which aims to educate women that heart disease is their biggest health threat.
While nearly 80 percent of cardiac events can be prevented through education and lifestyle changes, cardiovascular diseases are the leading cause of death in women, claiming the lives of one in three women.
Grandison struggled with cardiomyopathy, atrial fibrillation (a quivering or irregular heartbeat) and Type 1 diabetes for two decades until doctors diagnosed her with cardiomyopathy and implanted a pacemaker a decade ago. Before she lost three family members, Grandison hadn't realized the impact diabetes could have on her heart.
Now Grandison, 58, stays on top of her blood pressure, blood glucose and cholesterol, and she's not afraid to get a second opinion.
"Knowing your family history is huge so that you can ask the right questions and advocate for yourself," Grandison said.
Family history also played a big role for Mika Leah, whose dad had the first of several heart attacks when she was in the third grade. At 33, when testing revealed a 98 percent blockage in her main coronary artery, Leah learned that heart disease can happen at any age.
She also learned that women with cardiovascular disease can experience differences in signs or symptoms than men, and to take them seriously.
"Heart disease can happen to anyone and if something seems wrong, talk to your health provider," said Leah, who is now 41 and lives in Irvine, California.
Congenital heart conditions take toll
Molly Schroeder and Kelsey Gumm battled heart disease in ways that radically changed their lives in their 20s.
Schroeder had a heart attack at 21, just six weeks after losing her mom to heart disease. The college athlete learned she had a congenital condition, that her family history of heart disease increased her risks and that lifestyle changes could make a difference. Now 28 and living in Sturgeon Bay, Wisconsin, Schroeder tracks her exercise and checks labels to make sure she limits sodium in her diet.
Gumm, who is 32 and lives in Mt. Pleasant, Wisconsin, had a rare congenital heart condition that ended her naval career and left her unsure of how to be active again. Since then, she has cut out sugary drinks and high-sodium foods, and she bikes 100 miles a week. She urges women to take care of themselves.
"You only get this life and body once," Gumm said.
Sofia Montoya was born with her heart on the wrong side of her body, underwent multiple surgeries and got a pacemaker as a young girl. Now 19 and a student at the University of Colorado at Boulder, Montoya gets plenty of exercise and maintains a healthy diet.
"All that happened has made me realize that I am here because I fought for it and so I need to protect myself at any cost," she said.
Recognizing stroke risks, symptoms
After facing strokes, Latarsha Jones and Laura Pugh learned to make their health a priority.
For Jones, now 47, that meant changing jobs. She also started exercising and swapped her sodium-heavy Southern foods and sugary drinks for lean meats, fruits, vegetables and water.
F.A.S.T. might be the four most important letters of the alphabet for Laura Pugh, a marathon runner from Seattle, Washington, who had a stroke at 38. She urges women to recognize stroke symptoms, using F.A.S.T. as a reminder that if someone's face is drooping, their arm is weak on one side or speech is slurred, it's time to call 911.
"Follow up when something seems wrong," Jones said. "As women, we always put ourselves on the back burner."
Recognizing symptoms, protecting heart health after valve disease
Stacy-Ann Walker of Hartford, Connecticut, thought the swelling in her legs and shortness of breath were part of pregnancy. But Walker, then 29, had undiagnosed heart valve disease and was in heart failure. Doctors didn't realize it until after her daughter was born.
Having undergone valve repair and valve replacement, Walker, now 37, hopes her story inspires women to stay vigilant about their health.
"I want to educate and empower other women to be their own advocate and to know that they're not alone," she said.
---