---
Losing son inspires AHA volunteer to keep his legacy alive
By American Heart Association News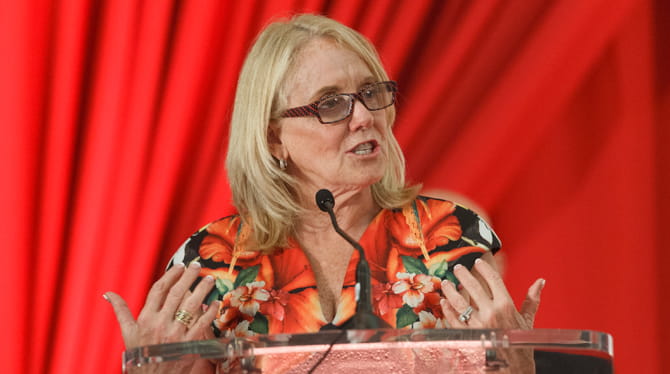 When her precious son Kyle lost his valiant, lifelong battle against heart disease at age 18, Shelly Church solemnly swore to keep his legacy alive.
"He really enjoyed his life, I think maybe because he knew it was going to be short," she said.
In his fleeting life — and since his devastating death in 2005 — Shelly has honored Kyle through an illustrious American Heart Association volunteer career that was recognized when she received the organization's Award of Meritorious Achievement last month.
Among Shelly's many accomplishments, her most recent effort was a momentous milestone of raising more than $1 million through the Collier County Heart Walk in Florida.
Four years ago, Shelly persuaded the CEO of Raymond James Financial — where she's senior vice president of investments — to lead the Tampa Bay Heart Walk. About 150 people walk on Kyle's team annually and more than 450 associates supported the cause last year.
Shelly has also served as the AHA's Southwest Chapter president, member of the Southwest Florida Chairman's Board and Open Your Heart chair for the Southwest Florida Heart Ball. In the latter role, she inspired the first $100,000 in donations to American Heart Heroes, a support program for children with heart disease.
She also helped launch Go Red For Women in her local area.
"Working with all the committed staff of the AHA has been so incredibly rewarding," Shelly said. "The passion and commitment they all share makes it such an incredible organization. That's why it's so easy to continue to be involved as a volunteer and recruit others to serve. I've always been involved in charity and volunteerism but once my son was born, service to others became a focused effort."
On June 18, 1986, the night Kyle was born, Shelly expected her baby to be snuggled by her side when she awoke from a deep sleep. But he wasn't even in the room.
"I remember waking up and thinking, 'They haven't brought the baby in yet,''' she said. "I called the nurse, and she said, 'The doctor is coming to talk to you.' My heart sank."
The doctor's words shook Shelly's world: "I believe Kyle has a heart condition."
Turns out, Kyle had a hole in his heart. So, just 6 weeks old, he had open-heart surgery. Other surgeries followed at 16 months and 6 years.
There were many trying times. But Shelly, along with her husband and daughter, weren't deterred.
"You do what needs to be done," she said. "I had to be the advocate for my baby. I had to stay focused and take it one day at a time."
Desperately seeking answers and help, she reached out to the AHA's local office.
She still remembers the day someone reached back.
"I felt so alone and scared, and the AHA not only gave me guidance, but they contacted me from time to time to check on me," Shelly said.
"Several years down the road, after Kyle's condition was more stable, he and I participated in our first Heart Walk in 1998 and he was grand marshal. We did seven walks together before he died."
Shelly later introduced "RED OUT" at Kyle's high school alma mater in Naples, Florida, to raise awareness of heart disease. During the school's basketball games, players and fans wear red jerseys bearing Kyle's name, and proceeds benefit heart disease research. It's a fitting tribute to the boy who loved basketball.
Shelly and her current husband, Fred, also give $2,500 scholarships annually for kids with congenital heart disease to spend summers at Camp Boggy Creek, a 232-acre retreat outside Orlando, Florida.
For six years, Kyle spent some of his most joyous moments at the camp. It's also where he met Kiante, who went into cardiac arrest and died on the last night of the weeklong camp. Kyle later walked in his friend's memory, raising $21,000.
Kyle participated in his final Heart Walk in 2004, breaking a market record for fundraising. The young boy with the big heart gave until he could give no more.
"He was like a magnet, pulling children toward him, and his heart was big enough to hold all of those who needed it," Shelly said. "I'm honored to continue Kyle's legacy."
If you have questions or comments about this story, please email [email protected].
---