---
Statement is first to address cardiac arrest during pregnancy
By American Heart Association News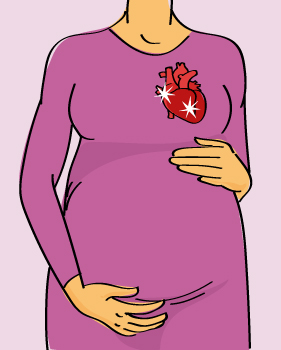 Cardiac arrest can happen during pregnancy. And until now, there was no comprehensive statement defining the problem and outlining the many things women and their families, bystanders, emergency medical services professionals and emergency room medical staff need to know when a pregnant woman experiences this often deadly event.
The American Heart Association on Tuesday released the first comprehensive recommendations addressing the complicated issue of cardiac arrest during pregnancy. The scientific statement was published in the AHA's journal Circulation.
One thing that isn't clear is how often it occurs. One study suggests that one in 12,000 pregnant women admitted for delivery in the U.S. experience cardiac arrest, the abrupt loss of heart function caused by a malfunction in the heart's electrical system. But that number most likely underestimates the problem because it doesn't include pregnant women who have a cardiac arrest outside of the hospital, according to the statement's lead author Farida Mary Jeejeebhoy, M.D., a cardiologist at the University of Toronto and William Osler Health System in Brampton, Canada.
It appears cardiac arrest and other causes of death during pregnancy are on the rise and have been for decades, Jeejeebhoy said. A reason could be that, increasingly, women who have risk factors for heart disease are becoming pregnant. They're older, might have diabetes, high blood pressure, obesity or high cholesterol.
"And women with more chronic health problems, such as chronic kidney disease, seizure disorders and lung disease (such as asthma) are entering into pregnancy," Jeejeebhoy said. "It may not be the disease that puts the mother at risk, but rather the inadequate treatment of the underlying health problem because people are afraid to treat them because they're pregnant."
On top of existing health problems, there are potential pregnancy complications such as preeclampsia and gestational diabetes, which can make an already risky situation worse.
Given these complex issues, women with chronic health problems who become pregnant should ideally receive care at centers that specialize in high-risk pregnancy, Jeejeebhoy said.
In the U.S., the most common causes of maternal cardiac arrest include bleeding, heart failure, amniotic fluid embolism — when the fluid around the baby enters the mother's bloodstream and causes an allergic reaction — and sepsis, a severe infection. Nearly six out of 10 pregnant women who have an in-hospital cardiac arrest survive, according to research.
Text version of infographic (PDF)
There are steps bystanders can take to help pregnant women who go into cardiac arrest, according to the statement. The first is to call 911 and tell the operator that the woman in cardiac arrest is pregnant. This will alert the emergency medical system to take special measures such as sending additional EMS providers and taking the patient to a hospital that can perform an emergency C-section if necessary.
The next step is to start CPR, with chest compressions performed in the same way as for a woman who's not pregnant, pushing hard and fast at the center of the chest at a rate of at least 100 compressions per minute. CPR in a pregnant woman should be done in cycles of 30 compressions and two breaths.
It is also safe to use an automated external defibrillator, or AED, if one is available.
Bystanders should not be afraid they might hurt the unborn baby, Jeejeebhoy said.
"Shock from a defibrillator and chest compressions will not harm the fetus," she said. "The fetus will likely not survive if the mother does not receive these life-saving measures."
If revived, the pregnant woman should be placed on her left side to improve blood flow to the heart and therefore to the fetus.
The statement also provides detailed recommendations for the various levels of care that a pregnant woman and newborn receive from EMS and hospital staff. Women who have chronic health problems or underlying illnesses should be counseled about the risks of pregnancy before becoming pregnant, according to the statement. Those at risk who become pregnant should receive care from specialists in obstetric medicine.
The statement also provides an early-warning score chart for healthcare providers that can predict when a pregnant patient might have a cardiac arrest.
"It is very important that all hospitals have a response plan for cardiac arrest in pregnancy," she said. "We need specialized training programs for the management of cardiac arrest in pregnancy. These [management programs] are only available few and far between."
---