American Heart Association
Louisville
Help us ensure everyone in Louisville has the opportunity to live longer, healthier lives.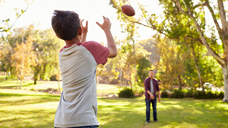 Healthy for Good
Living healthy and free of disease makes a critical difference in quality of life. That's why we're working to raise awareness about the vital effect lifestyle has on health and helping communities form healthy habits.
Show You Have Louisville at Heart
You can make a difference by lending your support to help improve the long-term health of Louisville.
Show your support
Medical Breakthrough Match!
Make your gift now to DOUBLE your impact to support unfunded research that could lead to the next lifesaving breakthrough against heart disease, and support prevention education and more.
Local Events
Join the fight to end heart disease and stroke by attending a Louisville event!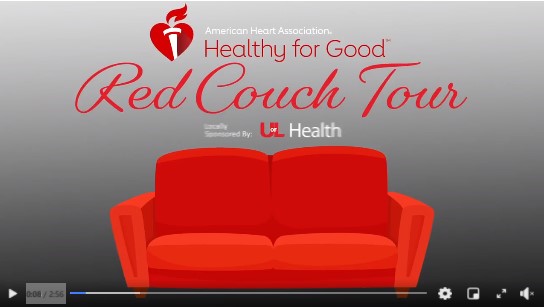 Red Couch Tour
The American Heart Association and UofL Health are teaming up to help heart disease and stroke survivors from throughout Kentuckiana share their stories as part of the Red Couch Tour. This is an opportunity for survivors to unite to fight the No. 1 cause of death: heart disease. The American Heart Association and UofL Health hope these shared experiences will help save lives by helping others recognize the signs and symptoms of heart disease and stroke.
Bob Valvano, heart attack survivor, and UofL and ESPN Radio basketball analyst, was the first survivor featured on the Tour.
"Knowledge is power, as they say--especially about your own health. Why wouldn't you want to know all about this stuff," said Valvano. "Don't assume 'I'll do that tomorrow'. There's no starting point for this--it's something you have to be diligent about. I was not, and almost paid the ultimate price."
Kroger Makes Food Pantry Possible
The American Heart Association recently partnered with Kroger to support the 120,000 people in the Louisville area who struggle with food insecurity. During the Kentuckiana Heart Walk on September 19, volunteers helped distribute 20,000 servings of fresh fruits and vegetables to those in need at pop-up pantries throughout Louisville and southern Indiana.
COVID-19 Community Conversation
The Louisville American Heart Association hosted a COVID-19 Community Conversation to help people understand the impact of COVID-19 on heart disease and stroke patients and survivors, including what they can do to protect themselves during the pandemic. Discussion included what to expect if you go to a hospital, the importance of calling 911 when experiencing signs of a heart attack or stroke, the American Heart Association's response to COVID-19 and how to safely reintegrate back into the community.
Healthcare Volunteer of the Year
Louisville resident, Lynn Hundley, has been selected as the American Heart Association's 2020 Healthcare Volunteer of the Year. The national award recognizes healthcare professionals who render outstanding contributions in cardiovascular patient care or improvements in the quality of healthcare delivery. Hundley received the award for her tireless work to advance stroke care in Louisville and across the nation. She is currently the director of clinical effectiveness for stroke care at Norton Healthcare.
AHA - funded Youth Vaping Research at UofL
The American Heart Association is investing nearly $17 million to fund a two-year research initiative, ENACT (End Nicotine Addiction in Children and Teens), led by a national network of scientists focusing on the health impacts of e-cigarettes and other nicotine delivery systems on youth and young adults. As part of this network, researchers at the University of Louisville Christina Lee Brown Envirome Institute will conduct studies to better understand youth vaping. Institute researcher Joy Hart, Ph.D., professor in the UofL Department of Communication, will lead a team engaging local youth to learn about what drives youth to use e-cigarettes, the health effects of this use and how to motivate young people to stop using these products.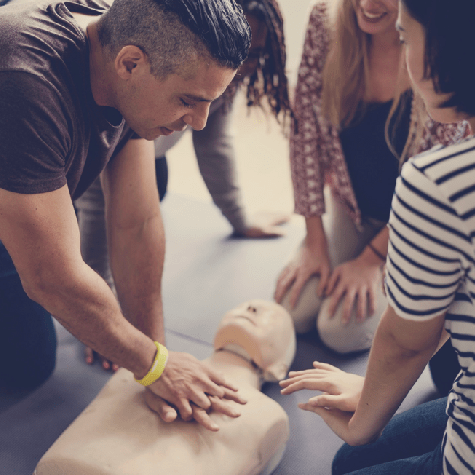 CPR & First Aid Training
Emergencies leave us feeling helpless, but they don't have to. Take two minutes to learn Hands-Only CPR™ now. 70 percent of out-of-hospital cardiac arrests happen in homes. When a person has a cardiac arrest, immediate CPR can double or triple their chance of survival. Prepare to save a life, find a CPR course near you today.
Louisville
240 Whittington Parkway
Louisville, KY 40222
Mailing Address:
PO Box 22221
Louisville, KY 40252
Phone: (877) 693-6208