American Heart Association
Tampa Bay
A relentless force for longer, healthier lives.
Our beaches, sports teams, vibrant downtowns, cuisine, and culture keep Tampa Bay on national "Top 10" lists year-round, but what is really at the heart of this exceptional community is our people. Sadly, there are vast disparities in health as not everyone has equal access to healthy foods, safe places to play and exercise, and adequate healthcare.
A mere two miles between neighborhoods could equate to a 15-year difference in life expectancy, and we don't think it's fair that a person's zip code could have more impact on their health than their genetic code. We are working tirelessly to eliminate these social barriers and ensure health equity for all in Tampa Bay.
Over 50% of Tampa Bay residents live with high blood pressure, increasing the risk of heart attack, stroke, and longterm COVID-19 complications.
This "Silent Killer" must be stopped
Make a gift today to help protect yourself and the people you love from high blood pressure's deadly consequences.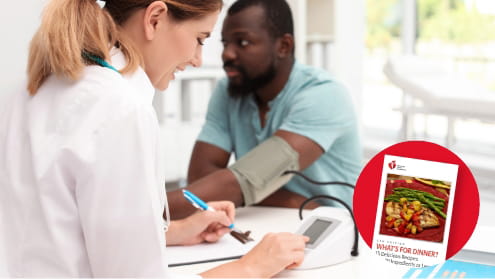 Local Events
Commit to a healthy future, and together let's build the health of Tampa Bay.
A Culture of Health & Wellness
Everyone deserves the best possible life, and it starts right here in our community.
"Brittany Williams was an active, healthy 24-year-old when she went into cardiac arrest at a restaurant in New York while on vacation with her family. Thankfully, two bystanders were able to quickly perform CPR and help save her life. Brittany never imagined she'd be in the hospital after suffering cardiac arrest, and she later learned she had an undetected heart disorder. 90% of people who suffer out-of-hospital cardiac arrest die, which is why Brittany has made it her mission to educate the public on the importance of learning CPR. Hear more of her story. (link opens in new window)(link opens in new window)"

Brittany Williams, Cardiac Arrest Survivor
Ensuring community access to CPR training kits
Imagine you're at home and a family member suddenly loses consciousness. Would you know what to do? Administering Hands-Only CPR would double or triple the chance of your loved one's survival. We've provided 5,500 CPR Anytime and Infant CPR kits to Tampa Bay hospitals over the last few months to ensure people in our community like you can be easily educated on life-saving CPR.
Helping women take control of their health
Are you a woman living in a traditionally under-resourced community? Chances are you have faced disparities and challenges when it comes to healthcare and you may have a higher risk for cardiovascular disease. Our local WISEWOMAN Program administered by the Center for Disease Control provides free health information and blood pressure cuffs. Being able to check your own blood pressure at home helps to promote healthy behaviors to reduce your risk for heart disease and stroke!
Creating culturally-relevant recipes for those in need
Has your family experienced challenges in accessing healthy foods? Food pantries often have an abundance of unused food – usually produce – as patrons lack the knowledge on how to properly prepare it. We've partnered with the University of South Florida to develop culturally-relevant recipes and health education for our under-resourced community members in Tampa Bay. We'll help you find recipes that feel familiar and desirable to prepare healthy meals for your family!
"As a mom of two children with Congenital Heart Defects, I know firsthand how important the work and mission of the American Heart Association is to creating awareness, education, and cures for families like mine. I hope to make an impact and help others who face heart disease."

Kye Mitchell, Tampa Bay Metro Board Chair
COO, Kforce
Contact Us
11207 Blue Heron Boulevard North
St. Petersburg, FL 33716