American Heart Association
Palm Beach County
A relentless force for a world of longer, healthier lives in our community.
Imagine Palm Beach County where healthy choices are equitable and accessible, where your zip code doesn't determine your health. From our surrounding rural areas to our urban cores, we are fighting for longer lives by making the places where we live, learn, work, play, pray and heal as healthy as can be.
200,000 people in Palm Beach County live without reliable access to affordable, nutritious food.
Give with TWICE the heart
For a limited time, your gift will be MATCHED DOLLAR-FOR-DOLLAR, up to $50,000.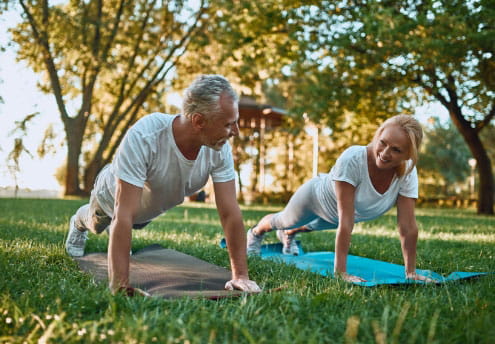 Local Events
Commit to a healthy future, and together let's build the health of Palm Beach County.
A Culture of Health & Wellness
Everyone deserves the best possible life, and it starts right here in our community.
Marissa Fattore - Stroke Survivor
Think stroke is something you don't need to worry about when you're young? Think again. Marissa Fattore woke up the morning of her college graduation "feeling off." She chalked it up to graduation nerves and pushed through the day. By the time she was called to the stage to accept her diploma, everything was blurry. Marissa has no memory of what happened after she sat back down. At the age of 21, she'd had a stroke. Nine years later, Marissa is a strong survivor who encourages women to learn the signs of stroke – F.A.S.T.
Boosting health every Sunday!
Right here in Palm Beach County, there are census tracts where 33% of residents are smokers and 50% have hypertension. One way to reach them? Church! We're helping congregations across Palm Beach County implement tobacco-free policies and help members regularly check their blood pressure.
Blood Pressure Initiative
Do you know your numbers? High blood pressure can be a silent killer. Several local clinics have a program that can help you measure and manage your blood pressure from home. And the best part? They're free at these qualifying clinics if you meet the requirements! Check out the links below or send us an email if you'd like the full list. Don't delay, check your blood pressure today!
30 daily steps toward a healthier heart
Bad habits are easy to start and hard to break. We know that in Palm Beach County nearly 60% of adults are overweight or obese, and over 20% do not participate in any regular physical activity. 30 Days of Heart is a unique local program that seeks to give people the tools they need to begin a healthy lifestyle change. Download the booklet and begin your heart-healthy journey today!
Heard of Metabolic Syndrome?
Metabolic syndrome is a group of five risk factors that can lead to heart disease, diabetes, stroke, and other health problems. It's diagnosed when someone has three or more of these: High blood sugar, low levels of HDL cholesterol, high levels of triglycerides in the blood, large waist circumference and high blood pressure. Take a look at this map to see where it's most prevalent, and take our survey to help improve community health!
Contact Us
2300 Centrepark West Drive
West Palm Beach, FL 33409