American Heart Association
Anchorage
Help us ensure that everyone in Alaska has the opportunity to live a longer, healthier life.
We're working to create a world free of heart disease and stroke - a world where everyone can achieve the best possible health - and it starts right here in Anchorage. From collaborating with public health organizations and legislators to create healthier workplaces, to training school children and community members on the lifesaving skill of Hands-Only CPR, to providing our kids with more opportunities to be active in school – together we are making it easier to be healthy where we live, work, learn and play. And we need you to join us on our journey to build a healthier Alaska. Together there's nothing we can't do.
Join our journey to build a healthier Alaska
Local Events
Join the fight to end heart disease and stroke at the next Anchorage event!
There are no upcoming events in your area at this time. Please participate in a Virtual Heart Walk.
Making an Impact in Anchorage
As a teen and young adult, Amber Brophy would experience periods of a rapid heartbeat but it would self-correct, so she didn't think much about it. In 2011, Amber became pregnant with twins and the periods of rapid heartbeat increased to the point she'd occasionally pass out. That's when the Anchorage, Alaska, mother knew something else must be going on.
Hypertension in Anchorage
Over one quarter of adults aged 18 and older living in Anchorage have ever been told by a doctor that they have high blood pressure. And many more Anchorage residents could be living with high blood pressure and not know it, as in many cases, it has no symptoms and is known as the "silent killer." Uncontrolled high blood pressure can lead to heart disease, stroke, kidney failure and many other health conditions. The American Heart Association is working to educate our community about the dangers of unmanaged high blood pressure and working with community health centers across the state to help thousands of people track and control their blood pressure.
Tobacco and E-Cigarettes
Big Tobacco is targeting our kids in an effort to create a new generation of tobacco users. This is not ok. We are working in collaboration with public health organizations and lawmakers to raise the sale age of tobacco and e-cigarette products across the state to ensure they stay out of the hands of our kids.
CPR Trainings
Emergencies leave us feeling helpless, but they don't have to. Take two minutes to learn Hands-Only CPR™ now. 70 percent of out-of-hospital cardiac arrests happen in homes. When a person has a cardiac arrest, immediate CPR can double or triple their chance of survival. Prepare to save a life, find a CPR course near you today.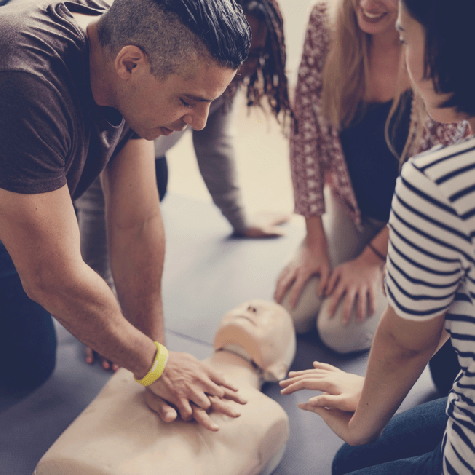 Contact Us
3700 Woodland Dr, Ste. 700
Anchorage, AK 99517
(907) 865-5300
Connect with our local team for more information