Bill Roach
Alameda, California | Champion's Circle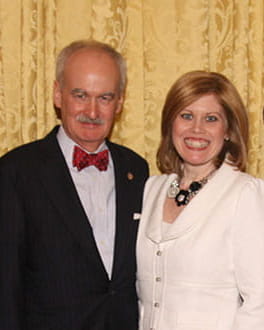 William "Bill" Roach, Jr. likes to joke that his relationship with the American Heart Association is like the 1977 Eagles single "Hotel California," describing his passion for the organization by saying, "Once I was checked in, I knew I would never leave." Although multiple members of his family, including his father, suffered from cardiovascular disease, he admittedly didn't know much about the Association before becoming involved.
Bill, now retired, was a capital partner of a global law firm. "I was asked to join the board by the president at the time because of my experience in merger situations and my skills applied to various mergers going on internally with the AHA affiliates. It wasn't until I got there that I realized the impact of what we were doing. Once that clicked, I was checked in, just like the song says." In 2003, Bill decided to include the American Heart Association in his estate plans, making him among the first members of the Paul Dudley White Legacy Society, which now boasts more than 7,000 members. His perspective is that estate and annuity gifts offer a large value impact providing people with ways to benefit their family members the most, while still being able to contribute to the Association.
As Bill's passion for the organization grew, so did his impact. After serving on multiple committees and as a regional officer board member, Bill went on to serve the Association for several years as a National Board member and as the 2011-12 National Board Chairman. From 2013 to 2017, he served as the chair of the Strategic Advisory Committee of Voices for Healthy Kids, an advocacy initiative of the American Heart Association and the Robert Wood Johnson Foundation. "I served on the national advocacy committee for many years and witnessing the impact of Voices for Healthy Kids at the local, state and congressional level was amazing. Being able to affect regulations on smoking, diet, health transparency, and a variety of other issues have brought such positive effects to so many," he said. He was even awarded the organization's highest volunteer honor, the Gold Heart Award, in 2016.
After decades of service and volunteering, Bill is still very much "checked in" saying, "I would encourage everyone to support the AHA's programs across the board, for their own well-being and the well-being of their families. The good health of its citizens is essential for the nation, and supporting the American Heart Association will help it achieve its mission to improve health for all," he said.