---
Doctor discussion is key for cholesterol treatment
By American Heart Association News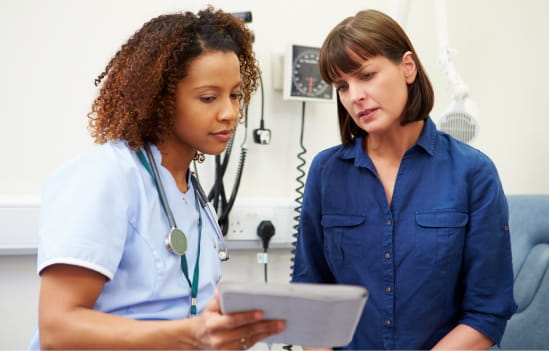 The third in a five-part series of articles that explain the new heart disease and stroke prevention guidelines.
There have been a lot of questions about the new cholesterol treatment guidelines – particularly when it comes to whether people should be taking cholesterol-lowering drugs called statins to prevent heart disease and stroke.
When the American Heart Association and American College of Cardiology announced the new guidelines that healthcare providers should follow, many reports projected a massive increase in statin prescriptions. But experts who helped write the guidelines say those reports missed the larger point: Statins are simply one of the important tools doctors can use to save millions of people from the two leading causes of death in the world.
"The goal is not to get more people on statins," said American Heart Association President Mariell Jessup, M.D., medical director of the Penn Medicine Heart and Vascular Center at the University of Pennsylvania. "The goal is to help Americans reduce their risk of cardiovascular diseases and stroke. The goal is to help people live longer, healthier lives."
The guidelines suggest that the number of Americans ultimately taking statins may be higher than the current 30 million or so, but the goal of the guidelines is to make sure this treatment is used for people who can benefit. And the guidelines make it clear that any decision about treatment should come as a result of patients working with their doctors to decide the best treatment – whether that means statins, lifestyle changes or some other therapy.
The American Heart Association and American College of Cardiology released four new cardiovascular prevention guidelines Nov. 12 covering important areas that impact heart-health: lifestyle, cholesterol, obesity and risk assessment. The updated cholesterol guidelines are the result of the latest medical research and rewrite best practices for the first time in a decade.
All four guidelines advise doctors to consider a patient's overall health in treatment decisions. And that's why one of the biggest changes in the cholesterol guidelines could lead to more people taking statins. Doctors have long prescribed statins based on a cholesterol number, particularly the level of "bad" LDL cholesterol.
But the guidelines advise assessing factors such as age, gender, race, whether a patient smokes, blood pressure and whether it's being treated, whether a person has diabetes, as well as blood cholesterol levels in determining their risk. They also suggest that healthcare providers may want to consider other factors, including family history. Only after that very personalized assessment is a decision made on what treatment would work best.
"Physicians now have to shift their thinking away from only looking at cholesterol levels," said Donald Lloyd-Jones, M.D., an American Heart Association volunteer who helped write the new guidelines. "A patient's overall risk is really the playing field on which people need to understand whether they need statin medication."
It's now believed that about a third of adults in the U.S. could benefit from statins. Of course, this includes nearly all patients who have already had a cardiovascular event such as a heart attack or stroke. This is called secondary prevention.
Also included in that number are people who have never had symptoms of cardiovascular disease, but whose risk for a heart attack or stroke within the next 10 years is at least 7.5 percent. Science shows that even people with a risk as low as 5 percent can benefit from statins as part of a strategy known as primary prevention. Among those who could benefit from primary prevention are African-American women over 60 with high blood pressure and white men over 50 who smoke and have high blood pressure.
Overall, including both primary and secondary prevention, an estimated 32 million to 33 million people fit into that category.
Under the old 2002 federal guidelines, a person's 10-year risk had to exceed 20 percent – but that estimate only considered the risk for heart disease. The new risk assessment calculator provided in the guidelines adds the risk of stroke.
Some reports have criticized the calculator for overestimating risk. And, the scientists who helped create it are quick to point out that it actually does overestimate in the populations most at risk because those are the people most in need of discussions with their doctors about what to do next.
"Remember, we didn't specify that getting a specific number (from the risk calculator) gives you an automatic prescription," said Neil Stone, M.D., professor of medicine at the Northwestern Feinberg School of Medicine and chair of the committee that wrote the cholesterol guideline. "Risk assessment is the start of the process, not the end."
The guideline recommends statin therapy for the following groups:
People without cardiovascular disease who are 40 to 75 years old and have a 7.5 percent or higher risk for having a heart attack or stroke within 10 years.
People with a history of a cardiovascular event (heart attack, stroke, stable or unstable angina, peripheral artery disease, transient ischemic attack, or coronary or other arterial revascularization).
People 21 and older who have a very high level of bad cholesterol (190 mg/dL or higher).
People with Type 1 or Type 2 diabetes who are 40 to 75 years old.
Some patients who do not fall into the four categories may also benefit from statins, a decision that should be made on a case-by-case basis.
For patients taking statins, the guidelines say they no longer need to get LDL cholesterol levels down to a specific target number – a significant departure from how doctors have treated cholesterol for years. While research clearly shows that lowering LDL lowers the risk for heart attack and stroke, there is no evidence to prove that one target number is best.
Thus the current guidelines focus instead on matching a patient's risk level with the intensity of statin treatment. In addition to lowering cholesterol, statins have other biochemical effects that may also help reduce the risk for heart attack and stroke. Most, including high-intensity statins, are now available in generic versions for as little as $4 for a month's supply.
The guidelines also advise doctors to no longer prescribe additional cholesterol-lowering drugs, such as fibrates and niacin, to patients who do not reach targets with statins alone because those drugs have not been shown to reduce heart attack or stroke risk.
A healthy lifestyle should always accompany statin therapy, the guidelines say. That includes eating a heart-healthy diet, being physically active on a regular basis, not smoking and staying at a healthy weight. The guidelines encourage healthcare providers to help their patients accomplish the changes they need to make.
Heart disease is the leading cause of death in the world, with stroke at No. 2. By more accurately identifying people most likely to benefit from statins, millions of heart attacks and strokes could be prevented over the next two decades, said Lloyd-Jones, a preventive cardiologist and chair of the Department of Preventive Medicine at Northwestern University Feinberg School of Medicine in Chicago.
Statins are "very safe drugs," he added, despite a small risk for muscle problems and accelerating the development of diabetes in people with prediabetes. "People shouldn't be afraid of statins. They can be lifesaving. If we can expand the pool of people who are taking statins because they're at risk, we could reduce the risk of cardiovascular disease by 30 to 50 percent in the coming decades."
---