Meet our Heart Heroes:
Brayden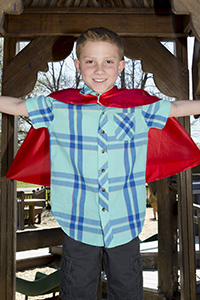 Brayden is a true inspiration to his friends and family. At eight years old, Brayden has already had two open-heart surgeries. When he was born, doctors told his parents he had tetralogy of fallot, which meant his oxygen levels in his blood were very low because of a heart deformity. Brayden's first surgery took place when he was only two months old. Two years later he had a second successful open-heart surgery where he continued to grow and thrive. Today, Brayden loves to stay active by swimming and playing with his friends. His mother says she will never move out of Denver because she will never leave the heart care team at Rocky Mountain Hospital for Children who continue to keep Brayden healthy and strong!
Wyatt
Wyatt had his first open heart surgery at 6 days old at Rocky Mountain Hospital for Children. Wyatt was born with Hypoplastic Left Heart Syndrome, which affected the normal blood flow through his heart because the left side of his heart did not form correctly. His second surgery came just five months later. When Wyatt was a baby, he was very fragile and the first two of years of his life his parents focused on keeping him safe and healthy. When he was two years old, Wyatt had to undergo one more open-heart surgery. Since then, his mom says he has been doing great! The now five-year-old loves swimming and camping, especially with his 11-year-old brother Austyn. He is strong and not afraid to try new things. He is also never afraid to ask for help when he needs it. He reminds his family and others to be thankful for the life we have and, if you face a tough situation, go at it with a positive approach and you will always come out on top.
Nathan and Alex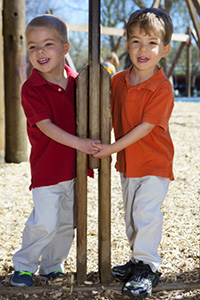 Twin boys Nathan and Alex were both born with heart defects. Their team of physicians at Rocky Mountain Hospital for Children knew these brothers faced many challenges, but they would be with them every step of the way. Alex had his open-heart surgery at four months old and recovered well. Nathan's heart issues were more complex and his first surgery took place when he was only one month old. For the first three years of his life, Nathan fought his health battle with mighty strength, enduring two more open-heart surgeries and many challenges along the way. However, Nathan and his family never gave up. Now, at four years old, the twins are doing amazingly well. Their parents say it is extremely important to keep moving and try to stay as healthy as possible. If Nathan gets sick or does not stay active, it is not good for his heart. The twins' dad says, "If you keep your heart healthy, you will be able to have a longer, happier life. You are only given one heart so take care of it and don't take it for granted."
Savannah
Savannah will tell you she has a "special heart." Savannah was born with several congenital heart conditions and had her first open heart surgery when she was only six days old. Since then, she has had two more open-heart surgeries and spent many months in the hospital. After her last surgery at Rocky Mountain Hospital for Children, Savannah never looked back. She played soccer for the first time in the fall of 2017. She takes dance lessons and loves to perform in front of the crowd. Her mom says Savannah makes you appreciate every moment of every day. She is filled with energy and life and has no fear. She tells her friends she has a "special heart" and is not afraid to talk about her time in the hospital. Even though she has been through more than most adults, Savannah's free spirit is a good reminder to enjoy every minute and do not let anything slow you down.
---