American Heart Association
Triad
A relentless force for longer, healthier lives in our community.
Imagine a community where healthy choices are equitable and accessible, where your zip code does not determine your health. Across the Triad, we are fighting for longer lives by making the places where we live, learn, work, play, pray and heal as healthy as they can be.
Food insecurity, healthy food access, and access to quality health care are our greatest needs here in the Triad. But our Board of Directors and Collective Impact Coalition is addressing ways to improve health and reduce socioeconomic barriers in our community.
150,000 people live with food insecurity, and 47 food deserts exist right here in the Triad.
Give with TWICE the heart
For a limited time, your gift will be MATCHED DOLLAR-FOR-DOLLAR, up to $50,000.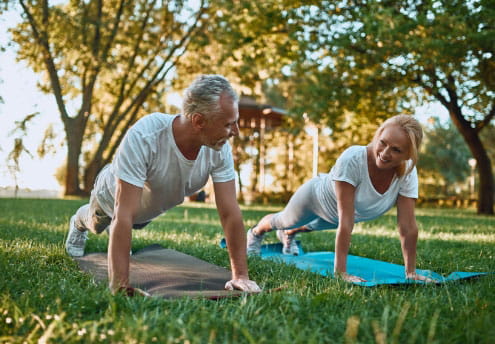 Local Events
Commit to a healthy future, and together let's build the health of Triad.
A Culture of Health & Wellness
Everyone deserves the best possible life, and it starts right here in our community.
"I go RED for my family, the health of my employees and myself. In a matter of seven years, I lost my father and several grandparents, prematurely, due to heart conditions. This makes me personally passionate about educating our community about the power we have to live longer, healthier lives, with preventative lifestyle choices. We surveyed our team here at Go-Forth Pest Control and discovered they were very interested in a wellness program at work. We've worked hard to develop a wellness culture, provide programs and resources, and integrate mental and physical health support into our employee practices. Through these efforts, we've seen the positive impacts on our employees. Not only are we making healthy habits easier to maintain at work, but we've seen employees directly benefit from the education and access to resources when faced with a cardiovascular event. I am honored to be leading the Triad Go Red for Women campaign and we are excited to partner with individuals and companies to support education on the importance of preventative lifestyle choices, healthier workplaces, and CPR training."

Leah Hazelwood
Vice President of Go-Forth Pest Control and chair of the Triad Go Red for Women campaign
Looking for healthy cooking skills?
Triad Mobile Kitchen Chef N'Gai is here for you! Thanks to Blue Cross NC, Chef is here to make healthy cooking fun and easy. He teaches families, communities and employees how to cook and eat healthy on a budget. During the pandemic, he's helping to feed families that need it most.
More than just a trim
Your next trip to the barbershop can help your hair and your health! Through the Hair, Heart & Health program, barbershop and salon staff are helping clients check their blood pressure and get the heart health info they need to help reduce risk factors for heart disease and stroke. Health chatter in your barber's chair will be even easier thanks to the Live Chair Health kiosk or the Live Chair app.
"I am honored to serve as the Chair of the 2023 American Heart Association Triad Board. I have a personal and professional connection with the work of the American Heart Association in support of my employees, family members, and community members. The impact the American Heart Association has on our community members is significant as they focus on awareness of preventive lifestyle choices and heart healthy education of cardiovascular disease and stroke. At Syngenta, we have worked hard to create a wellness culture offering both physical and mental support to our employees and their families, which includes promoting the importance of cardiovascular health and stroke prevention and education. I look forward to continuing my partnership with the American Heart Association and leading this year's effort to generate awareness and support for activities that help improve the health and wellbeing of all community members."
Vern Hawkins
2023 American Heart Association Triad Board; President of Syngenta North America Crop Protection
Improving health equity and community health in the Triad
We are excited to announce 11 community health mini-grant awards, totaling more than $90,000! These awards will bolster existing programs and ignite new programs that are focused on improving heart health, health equity and nutrition security for the most at-risk populations in Greensboro and High Point. With Bank of America and UnitedHealthcare, we are working to build sustainable change to improve the health of our community.
Local researchers working for you
The next big advancements for heart disease and stroke could come from your own back yard! Nearly $2.8 million in research is taking place right now at Wake Forest University School of Medicine, High Point University, and North Carolina A&T.