American Heart Association
Triad & Iredell County
A relentless force for longer, healthier lives in our community.
Imagine a community where healthy choices are equitable and accessible, where your zip code does not determine your health. Across the Triad, we are fighting for longer lives by making the places where we live, learn, work, play, pray and heal as healthy as they can be.
Food insecurity, healthy food access, and access to quality health care are our greatest needs here in the Triad. But our Board of Directors and Collective Impact Coalition is addressing ways to improve health and reduce socioeconomic barriers in our community.
150,000 people live with food insecurity, and 47 food deserts exist right here in the Triad.
Help prevent death from heart disease and stroke
Heather got a second chance at life because caring people like you help fund critical research and breakthroughs. Help save more lives and give more second chances with a monthly gift of $19 or more and receive a limited-edition "We Save Lives" T-shirt with our thanks.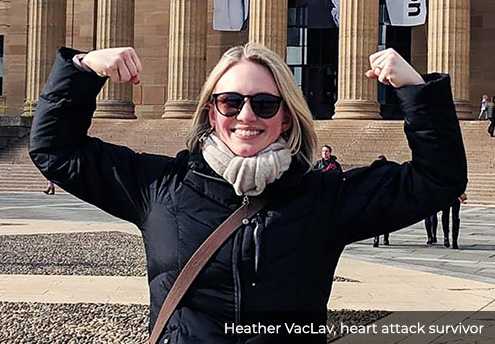 A Culture of Health & Wellness
Everyone deserves the best possible life, and it starts right here in our community.
"My father was a Heart Walk chairman for three years when I was growing up in Little Rock, Arkansas, and I look forward to keeping the family tradition going strong. MedCost has been a proud Healthy for Good sponsor for the Walk for years, and I'm proud to help in the fight against heart disease, stroke and COVID-19's impact on cardiovascular health. I'm honored to contribute my time and efforts as the American Heart Association's 2021 Winston-Salem Heart and Stroke Walk Chair. In this role, I get to support healthier, longer lives on a large scale, while still being able to see the impact we're having on community health right here in our own backyard."

Brad Roehrenbeck, General Counsel & VP, Legal Services and Compliance at MedCost, 2021 Winston-Salem Heart and Stroke Walk Chair
Looking for healthy cooking skills?
Triad Mobile Kitchen Chef N'Gai is here for you! Thanks to Blue Cross NC, Chef is here to make healthy cooking fun and easy. He teaches families, communities and employees how to cook and eat healthy on a budget. During the pandemic, he's helping to feed families that need it most.
More than just a trim
Your next trip to the barbershop can help your hair and your health! Through the Hair, Heart & Health program, barbershop and salon staff are helping clients check their blood pressure and get the heart health info they need to help reduce risk factors for heart disease and stroke. Health chatter in your barber's chair will be even easier thanks to the Live Chair Health kiosk or the Live Chair app.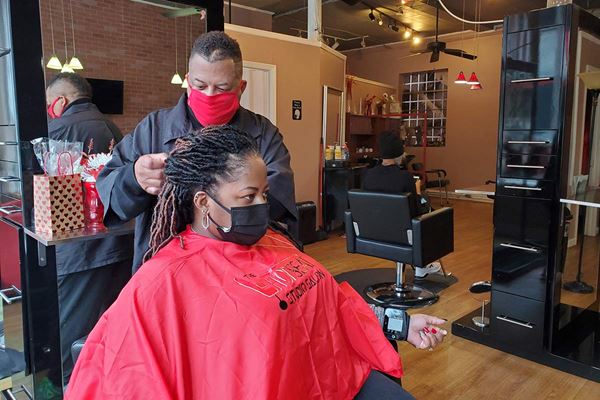 "I am humbly honored to serve as the Chair of the 2021 Winston-Salem Heart Ball Campaign. I have a connection with the work of the American Heart Association both professionally and personally. The impact of this organization is vast, as they focus on cardiovascular disease, the number one killer worldwide, and stroke as the number two killer globally. Whether it be mentally or physically I believe in the importance of advocacy for health equity. As a female leader, I see firsthand the importance of women's health, but also the health of those we love and support. I stand with the American Heart Association and believe in the pursuit of a long and healthy life, by sharing heart healthy education, tools and resources, as now more than ever, amid a pandemic, we need to focus on the health and wellbeing of those we love, while also prioritizing self-care."

Alisha Hutchens, 2021 Winston-Salem Heart Ball Chair
Do you know where your next meal will come from?
Over 90,000 people in Guilford County experience food insecurity. Chef N'Gai Dickerson is working with local health communities to provide healthy food for families in Guilford County during the COVID-19 pandemic. We're connecting with local farmers to provide free produce boxes to distribute to families at churches and community centers across the Greensboro area.
Local researchers working for you
The next big advancements for heart disease and stroke could come from your own back yard! $1.3 million in research is taking place right now at Wake Forest Baptist Health, UNC Greensboro, and North Carolina A&T.