American Heart Association
Triad & Iredell County
A relentless force for longer, healthier lives in our community.
Imagine a community where healthy choices are equitable and accessible, where your zip code does not determine your health. Across the Triad, we are fighting for longer lives by making the places where we live, learn, work, play, pray and heal as healthy as they can be.
Food insecurity, healthy food access, and access to quality health care are our greatest needs here in the Triad. But our Board of Directors and Collective Impact Coalition is addressing ways to improve health and reduce socioeconomic barriers in our community.
150,000 people live with food insecurity, and 47 food deserts exist right here in the Triad.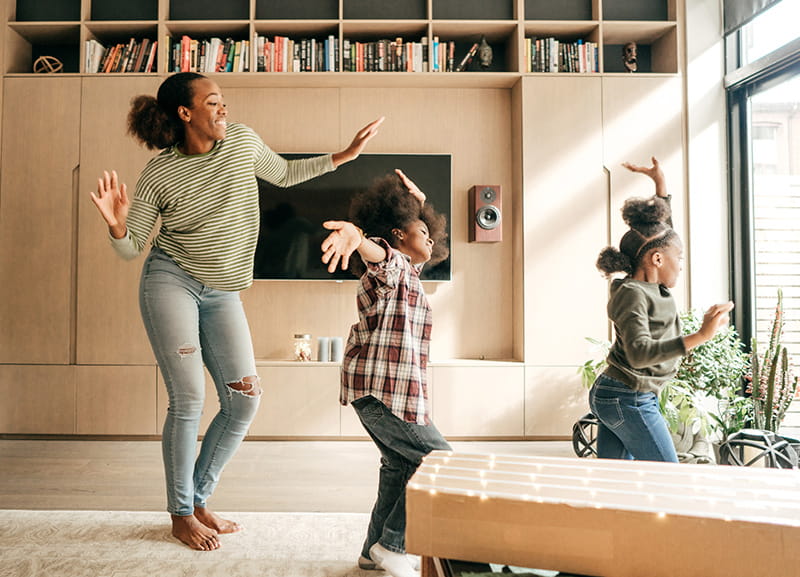 Healthy at Home
No need to feel alone while you're isolated. Let's connect as a community and learn new ways to eat healthy, get active, and manage stress while staying safe at home.
Help Us Save Lives
Your support is critical to our work fighting heart disease and stroke, especially as we address the challenges of COVID-19. Please make your lifesaving gift today.
There are no upcoming events in your area at this time. Please participate in a Virtual Heart Walk.
A Culture of Health & Wellness
Everyone deserves the best possible life, and it starts right here in our community.
"UnitedHealthcare is committed to helping people live healthier lives and is proud to partner with the American Heart Association of the Triad because of their mission to build an equitable, healthier community and focus on the non-medical drivers of health such as food insecurity. Both of our organizations encourage collaboration in order to positively affect change. We initially partnered with the American Heart Association to provide 200 pounds of fresh produce, dairy products, and peanut butter to families impacted by COVID-19. UnitedHealthcare also reallocated and repurposed our employee cafeteria to help meet the food insecurity demands in Guilford County. For eight weeks, we prepared and distributed 48,000 nutritious meals to eight non-profits. American Heart Association received 4,000 of those meals, valued at $20,000 to distribute to clients with the greatest food needs."

Anita Bachmann, CEO, UnitedHealthcare Community Plan of North Carolina
Fueled and ready to get nutritious!
The new Triad Mobile Kitchen brings healthy cooking and eating classes to under-served neighborhoods in our community, made possible by Blue Cross NC. As a result, over 10,000 families each year are learning healthy cooking skills and discovering local resources to combat food insecurity.
Helping our neighbors!
In collaboration with Blue Cross NC, we are proud to announce nine community health mini-grant awards, totaling $35,000 in the Triad. These local mini-grants focus on food insecurity, access to healthy food, access to care, and blood pressure management. The mini-grants will impact women, children, faith-based communities and communities in underserved populations. With the increased need during the COVID-19 pandemic, two of these selected mini-grant awards are funding coronavirus pandemic relief efforts in our community.
"Volunteering with the American Heart Association in Greensboro is a blessed opportunity for me, and Syngenta. Both of our organizations are committed to ensuring a secure and nutritious food supply to improve well-being locally and across our country, so our capabilities and passion are very well aligned. Syngenta focuses every day on helping farmers be more productive and sustainably grow healthy food which supports the work the American Heart Association does to promote heart health. Working together with the local American Heart Association Team provides us the opportunity to share the benefits of our efforts with families and neighbors in and around our Greensboro community and we know we are making a difference."

Vern Hawkins, Regional Director/North America President of Syngenta, 2020 & 2021 Guilford Heart and Stroke Walk Chair
Healthy Temples - Healthy Spirits: Church Healthy Food Policy
Goler Memorial AME Zion Church in partnership with the American Heart Association has implemented a healthy food policy to increase awareness of the connection between food and spiritual wellness. The Food Policy will be implemented at all church functions. This policy sets the framework for changing consumption of food high in fat, sodium, and sugar in an effort to reduce the risks of health disparities in our church and communities.
Funding life-saving research in our own backyard
Community leaders and volunteers got a behind-the-scenes tour of the Wake Forest Baptist Health research facility to learn how local donations save local lives. Since 1970, we've funded over 259 research awards totaling over $23 million right here in the Triad. Currently, $1.3 million is at Wake Forest Baptist Health, UNC Greensboro, and North Carolina A&T.