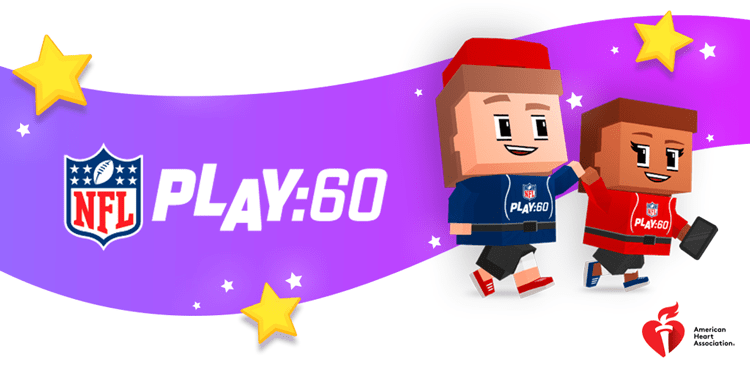 Are you ready to PLAY 60? The NFL PLAY 60 app, brought to you by the American Heart Association and the National Football League, encourages youth to get active 60 minutes each day. The free app allows users to choose their favorite NFL team and create their own personalized avatar. Users can create custom workouts and play games by controlling their avatars onscreen with their own physical movement. Get moving to earn special PLAY points and unlock cool NFL gear for your PLAY 60 avatar!
The app also has ALL-NEW ways for parents and teachers to get involved! Parents can create activity plans and track fitness development while kids get active to earn PLAY points and mystery boxes. The "Group Play" feature allows parents and teachers to create customized timed workouts for their child or students – featuring exercises like jumping jacks, squats, running in place, and balancing on one leg. Workouts can be 5, 10, 15, 30, or all the way up to 60 minutes!
NFL PLAY 60 App: Fitness Tracking Competition
The American Heart Association and National Football League are asking classrooms, afterschool programs, and other student groups to join the NFL PLAY 60 Fitness Tracking Competition through the NFL PLAY 60 app. From January 22nd to February 9th, the group that logs the most activity minutes through the app for their selected NFL team will be the recipient of a $1,000 NFL PLAY 60 grant! The most active group in the nation will receive an additional $1,000!
Commit to participating by providing your information below. You will begin receiving information about the competition, how to sign up in the app on launch day, and how to use the app to log your group's minutes.
View the competition rules (PDF).
***If the form does not appear, please refresh your web browser.***
Download in the App Store or Google play.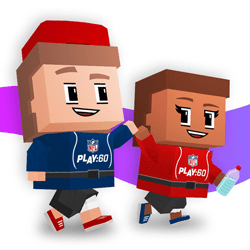 (link opens in new window)
(link opens in new window)
NOTE: Supports iPad 2, iPhone 4S, iPod 5, and later models.
---
The NFL PLAY 60 app has been developed to meet WCAG 2.1 Level AA success criteria.
If the format of any material in this application interferes with your ability to access the information or if you have questions or comments about accessibility, please contact us at [email protected].
---