Community Health Center Hub
We're here for you! Welcome to the resource hub for the Health Resources and Services Administration (HRSA) funded Community Health Centers. This page will provide information to help your health center succeed in lowering blood pressure rates in your community.
Taking a new look at blood pressure measurement
We're grateful to continue working with health centers around the country to refresh and expand educational awareness around blood pressure measurement and management approaches.
While we work together to improve patient blood pressure control rates, we're connecting with health centers around the country to learn more about the changes in their centers.
Our latest story comes from the Perry Country Medical Center in Tennessee.
Read the full story from our chat with Kristie Allen, a nurse who serves as a quality improvement coordinator at the center.
Interested in sharing your story?
Help us get the word out about your team and the changes in your health center.
Whether it's a great a picture of your team having fun, a patient anecdote or an overview of the center's new approach to measuring blood pressure, your stories can encourage patients and other health care professionals to improve their measurement and management practices.
Please email us at nhci@heart.org to share your stories and photos.
Learning Journeys
Blood Pressure Measurement & Management Training Tools
Different people need different information about high blood pressure depending on the stage of their diagnosis. The American Heart Association has created learning journeys to guide health care professionals, community businesses and organizations, and people like you with information to measure and manage blood pressure.
The following resources have been divided into categories for easy access.
Patient resources on understanding, improving and self-measuring blood pressure
Community-based organization resources for understanding and measuring blood pressure in neighborhoods
Health care professional resources for blood pressure measuring and management training
Community-Based Organizations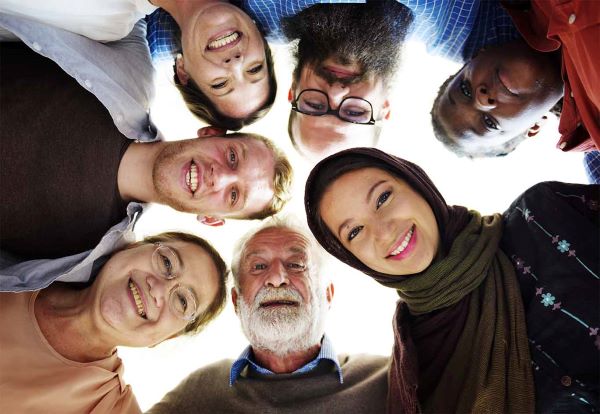 Across the U.S., community-based organizations have provided social support, care and services to people of all ages and cultures. These organizations may help promote health and behavior change, meet community resource needs, and address social determinants of health for people and patients within the community.

Health Care Providers



Health care professionals are vital allies to patients diagnosed with high blood pressure. Their role is critical to helping patients achieve and sustain blood pressure control with lifestyle modification and medication adherence.

Patients / Caregiver



High blood pressure may lead to heart disease, stroke and worse COVID-19 outcomes. The Office of Minority Health, the U.S. Department of Health and Human Services and the American Heart Association have joined forces to help you better address the condition.

Resource Library
This library houses resources to support patients and community health centers seeking to improve blood pressure control through the use of self-monitored blood pressure (SMBP). The resources are separated by audience and cover a range of topics including clinical preparedness, patient education and training, correct measurement techniques, and the use of loaner programs.
Community Health Center Resource Library
These resources are intended to support clinical providers in the implementation of SMBP. Topics include the scientific evidence and rationale for SMBP, technical considerations for SMBP, patient education, and details on the MAP framework.
Patient Resource Library
These educational resources are intended to support patients in successfully conducting SMBP on their own. Topics include a description of SMBP, how to correctly do it, and supporting materials.
Administrative/IT Resource Library
These resources are intended to support administrative and IT staff in health centers in implementing the necessary structural supports for SMBP. Topics include billing codes for SMBP, setup and management of loaner device programs, equipment, operations, and workflow considerations, and details on annual recognition through Target:BP.
Monthly Webinars
Catch up on the latest information from our monthly Community Health Center webinar series by replying the sessions and downloading the presentations. Please note that technical assistance is available to health centers that are a part of the National Hypertension Control Initiative.
March 2021 Webinar

Opening webinar for the NHCI program welcoming the community health centers, introducing the initiative and providing an overview of the basics of blood pressure measurement.
April 2021 Webinar

Introduction of the training and technical assistance plan for the NHCI community health centers and the importance of the hypertension registry.
May 2021 Webinar

Accurate blood pressure measurement webinar.
June Webinar
Learn about Self-measured blood pressure (SMBP) I.
July Webinar
July/SMBP II Webinar to discuss a recap of Self-Measure Blood Pressure Part 1, Health Center Engagement, and Self-Measure Blood Pressure Part 2.
August Webinar
Act Rapidly: Treatment Intensification Webinar geared towards HRSA-funded Health Centers to discuss the impact of treatment intensification on improving Blood Pressure control.
@containerItem.RenderHeadingSizeTag("h2")>
September Webinar
When Hypertension and COVID Collide AHA-NHCI
Primary Care Association Webinar
This webinar is intended to introduce Primary Care Associations and other primary care support organizations/partners to the National Hypertension Control Initiative.
National Hypertension Control Initiative (NHCI) Community-Based Organization Welcome
The American Heart Association (AHA) hosted an welcome webinar for community-based organizations and businesses interested in learning more about the National Hypertension Control Initiative (NHCI) and how they can be a source of information and force for change in the health of their neighborhoods.
Upcoming Webinars
Mark your calendars for our upcoming webinars this year. Look forward to seeing you there! All webinars will take place from 12pm-1pm CT / 1pm-2pm ET. The time and date are subject to change.
| Date | Webinar |
| --- | --- |
| August 18, 2021 | Act Rapidly: Diagnosis & Treatment Algorithms (Rebroadcast on August 31 at 8 a.m. & 5 p.m.) |
| September 23, 2021 | Act Rapidly: Treatment Intensification |
| October 13, 2021 | Partner with Patients: Lifestyle Modification with Nutrition & Physical Activity |
| November 10, 2021 | Partner with Communities: SHOD and Center-Community Linkages |
| December 8, 2021 | Wrap Up |
Catch up on the latest news and training information for our Community Health Centers
US Blood Pressure Validated Device Listing™
Blood pressure measurement devices that have been validated for clinical accuracy as determined through an independent review process.
Frequently asked questions and technical help
Interested in learning more about this initiative? Our FAQ provide more information. If you have additional questions or need further help implementing the program in your community health center, email us at nhci@heart.org