Healthy Living
Join Healthy for Good now and get our Fall Family Foods digital recipe booklet free!
Healthy for GoodTM
Healthy for Good is a healthy living movement to inspire lasting change in your health and your life, one small step at a time. The approach is simple: Eat smart. Move more. Be well.
How can we help you Live Fierce?@containerItem.RenderHeadingSizeTag("h2")>
Eat Smart
Healthy eating and cooking start with smart food choices. Learn what to look for at the grocery store, in restaurants, at your workplace and on any eating occasion.
Move More
Let's stick with it! You'll build more opportunities to be active into your routine when you find ways to move that you like.
Be Well
Eating right and being active top our to-do list. True health also includes getting good sleep, practicing mindfulness, managing stress, keeping mind and body fit and connecting socially.
When families eat together, amazing things happen.
Let's bring health and well-being into everyone's homes this fall. Owning your moment can be as simple as enjoying a family meal together. Study after study has shown the varied, lifelong benefits of family meals.
Give a Gift for Healthy Heart
Looking for a budget-friendly way to donate and give a gift? Make a donation in a loved one's name.
Then they'll be joining us in keeping families and communities healthy as a result of your support.
Featured Recipes
Delicious. Simple. Affordable. Quick. Bring simple cooking back to life.
See All Recipes
Celebrate and Vaccinate
Stay Fuerte for All by protecting and empowering your loved ones to get the COVID-19 vaccine.

Everything you do is for your family and your community, aquí y allá.

You are a father, a mother, a sister, a son, a primo, an abuela, an amiga, o una Comadre. Everybody looks up to you, depends on you, and needs you feliz and strong.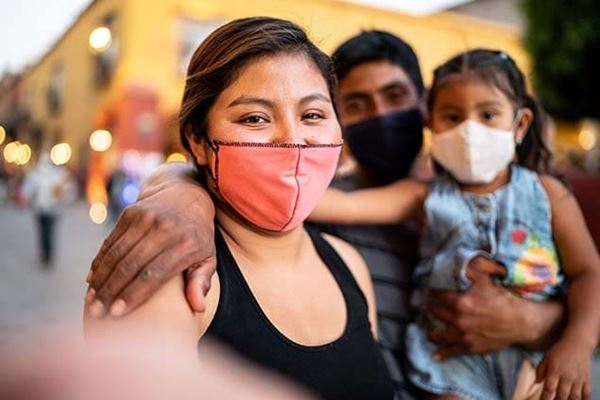 Healthy for Good Infographics
You can help us improve access to healthy nutrition for all.
The AHA believes all people deserve access to healthy food so they can live their best lives.
That's why we're working to improve nutrition and food security for everyone, everywhere in America.
Healthy and Delicious
Whether you tasty quick recipes that require no special kitchen gadgets or recipes for your grill, slow cooker, pressure cooker and more, cooking healthy can be easy and delicious! Check out American Heart Association cookbooks today!
Join Healthy for Good™ and get our free Fall Family Foods digital recipe booklet while supplies last!